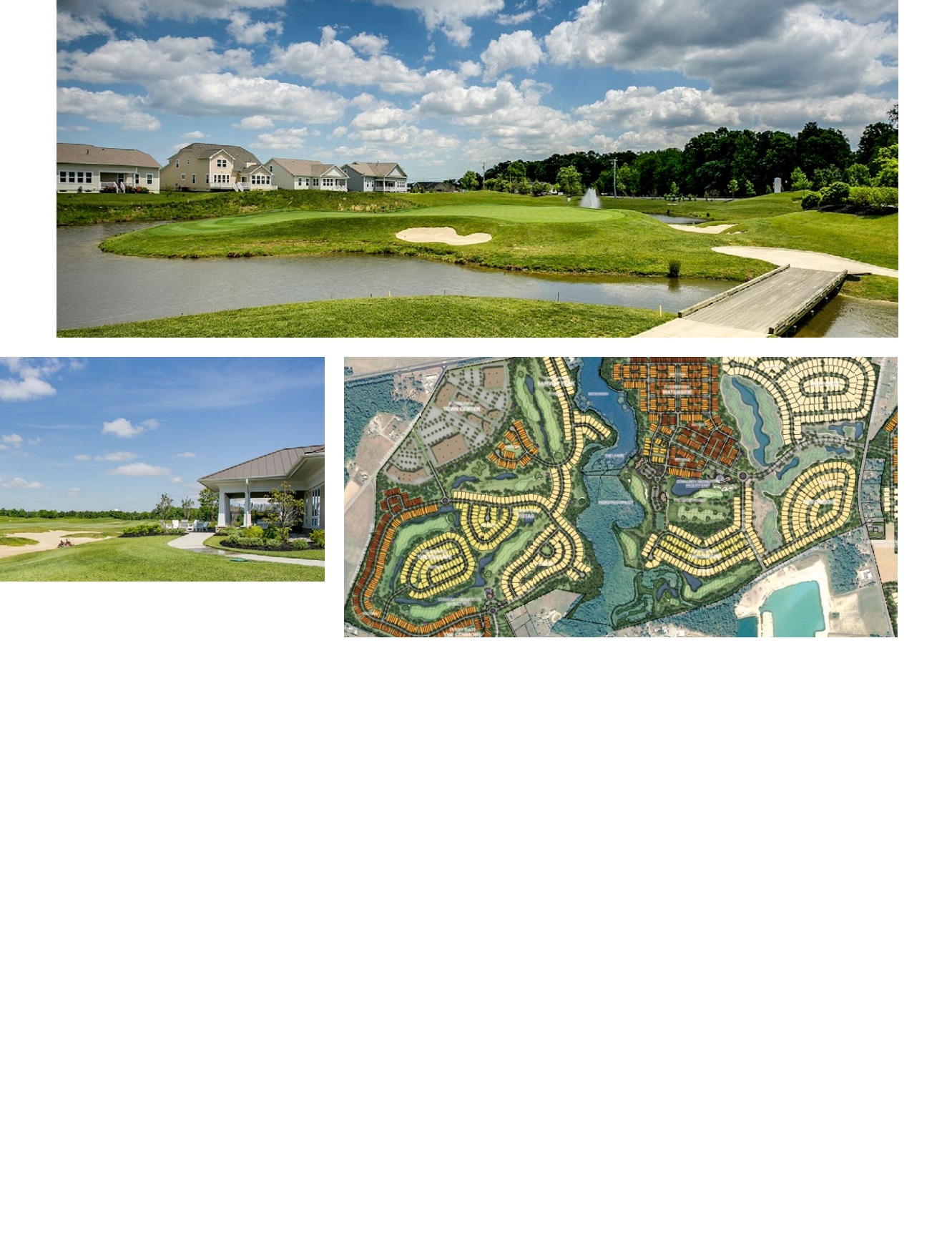 lived and worked in surrounding states
of Maryland, New Jersey and Virginia,
and were retiring to Delaware to take
advantage of the favorable tax structure.
"Due to the property being on The
Eastern Shore and only 30 minutes
from the beach, it was determined that
Plantation Lakes would be developed as
a resort community with a golf course
featured in a package of amenities that
also included a fitness center, outdoor
pool, trails, open spaces and community
parks," says ASGCA Past President Steve
Forrest, ASGCA, of Hills & Forrest.
The Hills & Forrest team proposed
a solution that would enable Lennar
to invest in its golf course at a pace
that matched the progress of the
development. The golf course was
designed to be built in stages, with
a few holes being available at the
initial phase of the project soon after
development began in 2007.
This was enough to satisfy early
homeowners, providing them with
a picturesque outlook and access to
high-quality golf holes at a reasonable
price. As it happened, this strategy
paid dividends. When the recession
arrived, homebuilding slowed,
but Lennar was able to continue
maintaining the six golf holes it had
completed before the downturn.
With the market now recovering,
the development can flex up again.
"Approximately 400 single family and
townhouse units, with supporting
infrastructure, have been sold and
settled," says project manager Shawn
Smith, ASGCA. "The clubhouse has
been completed, including a pool and
gym. Three additional golf holes are
under construction, with the grand
opening scheduled to take place on
Memorial Day in 2016."
It's this type of pragmatic approach
that is enabling developers to balance
the attraction of golf with the need for
a sound financial investment. And it's
not just residential developers who
are finding a return on investment in
golf. Resort developers continue to see
golf as a primary draw of visitors. The
Spring 2015 issue of
By Design
told
the story of the Pascua Yaqui Tribe of
Arizona, whose
Sewailo
golf course—
designed by Ty Butler, ASGCA and
Notah Begay III—is succeeding in
its goal to attract more visitors to the
tribe's Casino Del Sol resort.
Every development will have its
own optimum solution. As Bill Love
concludes: "It's important not to simply
apply the blanket statement that 'golf is
a good investment.' Each project should
be examined on a case-by-case basis and
we can't necessarily expect to complete
a course at the onset of a project.
We have to meet the development
objectives and build it for long-term
success, which means delivering a high
quality product, protecting sensitive
environmental areas and working to a
practical timeline." ASGCA members
have the experience and expertise to
propose a golf design that is best suited
to a developer's goals.
•
For
Questions & Answers on Selecting
Your Golf Course Architect
, visit
http://asgca.org/free-publications
11
1 -2
Consultants:
Morris&RitchieAssociates, Inc
Geo-TechnologyAssociates, Inc
TonoArchitects
EnvironmentalResourc
WadsworthGolfConstr
Melvin JosephConstru
FUTUREPHASE
TOWNCENTER
FUTUREPHASE
FAIRWAYPARK
FUTUREPHASE
WATERSIDE
THEPONDS
FUTUREPHASE
THEPRESERVE
THEGREENS
FUTUREPHASE
VISTAS
FUTUREPHASE
THEGREENS
1
2
3
4
5
6
7
8
9
10
11
12
13
14
15
16
17
18
FUTUREPHASE
THEENCLAVE
FUTUREPHASE
THECOMMONS
BETTSPOND
PLANTATIONLAKES
DUKESPROPERTY
SECTIOND
SECTION I
SECTIONG
SECTIONF
SECTIONH
SECTIONK
SECTION J
SECTIONQ
SECTIONL
SECTIONE
SECTIONE
SECTIONC
SECTIONB
SECTIONA
THEGREATHOUSE
THE LODGE
COMMUNITYRECREATION
FACILITYWEST
COMMUNITYRECREATION
FACILITYEAST
COMMUNITYRECREATION
FACILITYSOUTH
PEDESTRIANBRIDGE
D
U
R
H
A
M
B
L
V
D
C
O
U
N
T
R
Y
L
I
V
I
N
G
R
O
A
D
(
2
0
)
H
A
R
D
S
C
R
A
B
B
L
E
R
O
A
D
(
4
3
3
)
D
U
P
O
N
T
H
I
G
H
W
A
Y
M
I
L
L
S
B
O
R
O
H
I
G
H
W
A
Y
(
2
4
/
8
0
)
G
O
D
W
I
N
S
C
H
O
O
L
R
O
A
D
(
3
2
8
A
)
P
L
A
N
T
A
T
I
O
N
L
A
K
E
S
B
O
U
L
E
V
A
R
D
B
E
L
M
O
N
T
B
O
U
L
E
V
A
R
D
W
R
I
G
H
T
W
A
Y
Plantation Lakes opened with six holes,
and the developers are adding more as
the community expands
Photos: Lennar Corporation