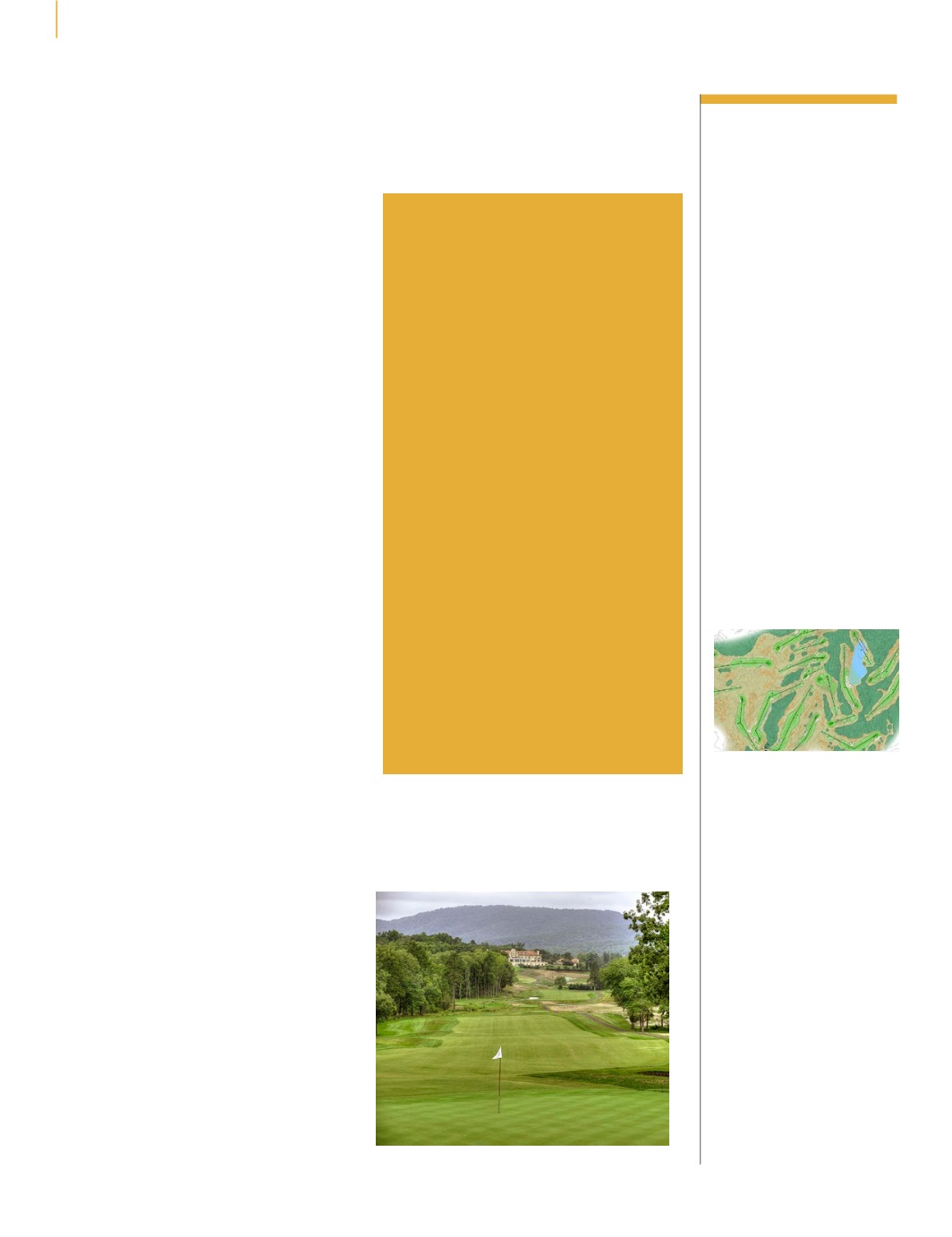 T
he ASGCA has revealed its Design
Excellence Recognition Program
recipients for 2015.
Projects from nine U.S. courses have
been recognised for their work with
ASGCA members in addressing unique
design challenges.
The Design Excellence Recognition
Program was created in 2012, with each
annual list highlighting the innovation
and problem-solving skills necessary for
today's golf course design work.
The 2015 nominations (see right) were
reviewed by a panel of golf industry
leaders, including representatives of the
Club Managers Association of America,
Golf Course Superintendents Association
of America, Golf Course Builders
Association of America, and National
Golf Course Owners Association.
"I offer my heartiest congratulations to
these tremendous golf facilities, as well as
the golf course architects who provided
their talent and expertise along the way,"
said President Steve Smyers, ASGCA. "The
Design Excellence Recognition Program
continues to grow each year. And this
year, the projects highlighted show the
positive impact a well-designed facility
continues to have for golfers and an entire
community."
DIGEST
Nine clubs cited for design excellence
Design Excellence Recognition Program
Blume oversees
Pearland project
The second phase of
a renovation project at
Pearland Golf Club,
Pearland, Texas, has
been completed. Golf
course architect Jeff Blume,
ASGCA, has overseen the
work, which involved the
development of new greens,
bunkers and tee boxes.
New course for
Michigan casino
A new course is to be
built at the Island Resort &
Casino in Harris, Michigan.
It has been designed by
Paul Albanese, ASGCA,
of Albanese & Lutzke and
will be his second course
at the resort, which is
owned and operated by
the Hannahville Indian
Community
Work completed at
Cypress Head
The course at Cypress
Head Golf Club in Port
Orange, Florida, has
reopened following a
renovation project led by
Mike Dasher, ASGCA.
Renovation complete at
Sawgrass CC
Sawgrass Country Club in
Ponte Vedra Beach, Florida
has completed a 27-hole
renovation project. The
club worked with Robert
Walker, ASGCA, on the
project, which included
improvements to fairways,
tees, bunkers, bridges,
drainage and irrigation.
07
2015 Design Excellence Recipients
•
Atlantic Beach Country Club
Atlantic Beach, Fla.
—
Erik Larsen, ASGCA
•
Birnam Wood Golf Clu
b
Santa Barbara, Calif.
—
Dr. Michael
Hurdzan, ASGCA Fellow
•
Glenview Park Golf Club
Glenview, Ill.
—
Rick Jacobson, ASGCA
•
Griffith Park Golf Course
City of Los Angeles, Calif.
—
Forrest Richardson, ASGCA
•
Independence Golf Club
Midlothian, Va.
—
Lester George, ASGCA
•
The Lochmoor Club
Grosse Pointe Woods, Mich.
—
Paul Albanese, ASGCA
•
Oaks Country Club
Tulsa, Okla.
—
Bill Bergin, ASGCA Associate
•
The Preserve at Boulder Hills
Wyoming, R.I.
—
Robert McNeil, ASGCA
•
Rockwind Community Links
Hobbs, N.M.
—
Andy Staples, ASGCA
A special edition of
By Design
featuring
of all nine projects will be available in
February 2016
Best new courses
ASGCA members on 'Best New' list
P
rojects involving members of ASGCA
have dominated a recently released
'Best New Courses' list.
Compiled by
Golf Digest
, eight of the
10 featured courses for 2015 have been
designed by members of ASGCA.
The list includes Cabot Cliffs in
Inverness, Nova Scotia, Trump Golf Links
Ferry Point in New York and the Full Cry
course at Keswick Golf Club in Keswick,
Virginia. Of the 10 projects listed in the
publication's 2015 remodel of the year, six
involved ASGCA members.
Visit
tinyurl.com/oenz6bp
to view the full list
The Full Cry course at Keswick Golf Club