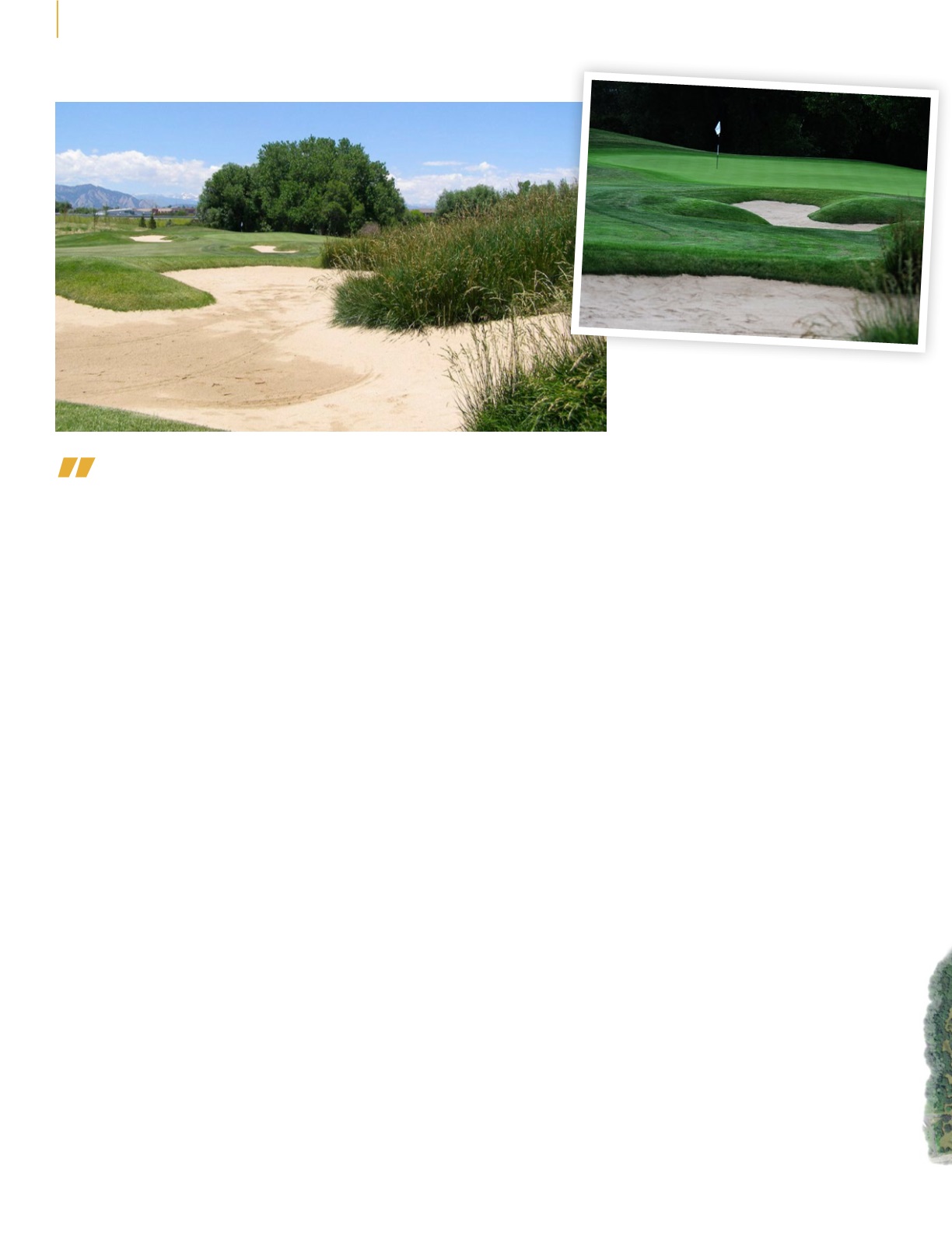 12
|
By Design
Appealing to this broad
demographic sometimes requires a
change in perspective. "Golf courses
often seem to be judged on the speed
of their greens. I'm not saying that's
not important, but so many other
things contribute to making a good
municipal course," Norby continued.
"The key is to make it fun. So
we pay particular attention to the
placement of hazards, slope of greens
and how thick the rough is. We
include multiple tees and also look to
eliminate forced carries. This enables
us to marry the desire to deliver fun
with the provision of a challenge."
Norby's renovation of Coal Creek
was instigated by storms that
damaged the course, but he took the
opportunity to introduce changes
that would make it more appealing to
a wide range of players. New forward
tees were introduced, bunkers were
repositioned and hundreds of trees
were removed. Norby also moved two
holes to improve sightlines.
As well as differentiating Coal
Creek from other municipal courses
in the area, the work also meant the
course was better able to withstand
extreme weather. When storms
hit the site again in 2015, newly
introduced drainage and collection
areas meant that no significant
damage was incurred.
Of course, if a municipal course
succeeds in its goal to broaden appeal,
and attracts more players, it must also
be able to withstand high levels of play.
"I like to provide wide, unencumbered
means of access and egress between
paths and tees and greens to better
spread wear," says Mungeam.
Mungeam also prefers softer slopes
around bunkers and tees for ease of
access and maintenance. "I will often
shift or eliminate bunkers and trees
to speed play, reduce maintenance
and eliminate 'cattle tracks' created
on the edge of features".
Multi-function
To attract large numbers, many
municipalities are working out ways
in which their golf courses can be
opened up for other activities.
In Fargo, North Dakota, Gill has been
hired by the Park District to redesign
El Zagal Golf Course. New city levees
reduced the space available from 25 to
22 acres and the primary focus of the
work is grading and drainage, so the
course can improve flood recovery.
Gill created a series of concept
drawings highlighting 'convertible'
elements. The nine-hole short course
could be converted to a driving range
with target greens in the spring when
the course was flooded by the Red
River. This type of innovative thinking
was key to securing the project. "We
have found municipal courses to be
very receptive to suggestions that
would enable them to become multi-
functional facilities," says Gill.
The new course will be among the
first (if not
the
first) in the U.S. to be
specifically designed for footgolf. The
concept originally presented to the
Park District included integration
of traditional golf, footgolf and disc
golf. Gill believes golf facilities need
to embrace these types of alternative
ideas to attract customers. "It enables
multi-generational and multi-use
enjoyment—you could have a group
going out and playing three different
forms of golf, all together".
There is often scope to incorporate
completely different recreational
activities, such as fishing ponds, lawn
bowling, bocce ball courts, and trails
for walkers, joggers and cyclists.
And the green outlook provided by
hospitality facilities at golf courses can
be a unique selling point, particularly for
large functions such as weddings and
conferences. These can deliver revenue
and also raise awareness of what the
facility offers to people who might not
have otherwise considered visiting.
Green infrastructure
There are additional benefits that can
justify municipal golf operations. One
obvious example is the preservation
of green space. "In many parts of large
cities, like New York, New Orleans and
Minneapolis, if it wasn't for municipal
MUNICIPAL GOLF
The key is to
make it fun
When Kevin Norby, ASGCA,
renovated Coal Creek Golf Course
in Louisville, a key aim was to make it more
appealing for a wide range of players
Photos: Kevin Norby