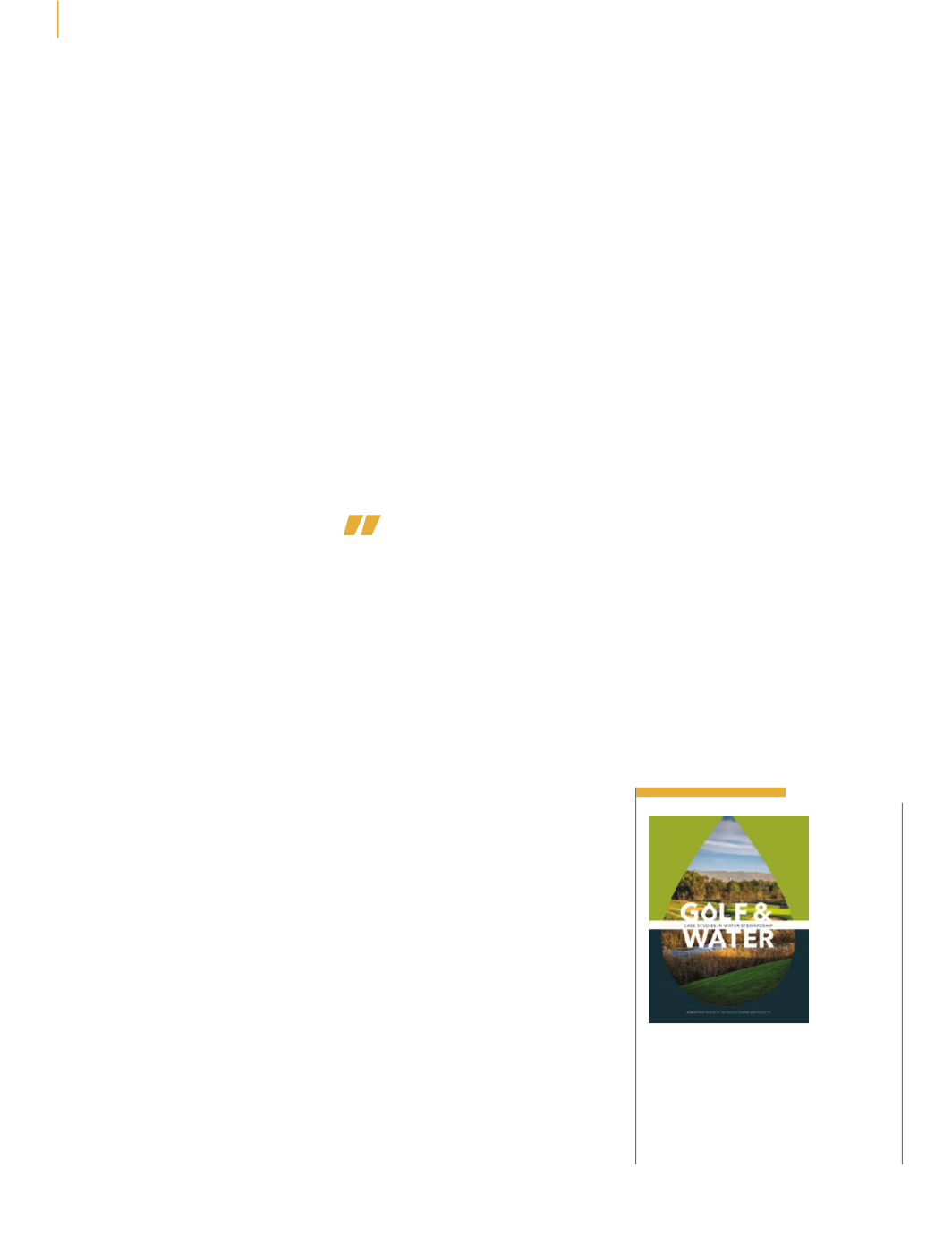 T
he recent Golf Industry
Show in San Diego saw the
introduction of a new book
from the ASGCA Foundation,
Golf & Water: Case Studies in
Water Stewardship.
With reference to numerous golf
courses that have a positive impact
on the management of water in their
communities, the book examines
the relationship between golf and
water, and provides guidance on
innovative paths to responsible
water stewardship.
"This book will help those
who develop land—and make
decisions about how golf fits into
a community—see how golf is
committed to good stewardship
when it comes to water, our most
vital natural resource," said ASGCA
President Steve Smyers, ASGCA.
Whistling Rock Country Club in
Korea and Charleston Springs Golf
Complex in Monmouth County, New
Jersey (see boxes) are just two of the
many golf courses profiled in
Golf &
Water
where ASGCA members have
embraced the challenge to positively
affect water use through innovative
design solutions.
The book also includes a section
on innovations in the making that
considers some new approaches to
the management of water resources
in golf, plus an irrigation checklist
with guidelines of how to proceed
with the installation or renovation of
an irrigation system.
With financial support from The
Toro Foundation and Rain Bird,
Golf & Water
has been developed by
the ASGCA Foundation, which was
established in 1973 to help fund the
research of golf course design and to
disseminate that information to those
interested in designating green space
for recreational purposes.
"
Golf & Water
continues the more
than 40-year commitment of the
ASGCA Foundation to support golf
and the environment," said ASGCA
Foundation President John LaFoy,
ASGCA. "The ASGCA Foundation
is thrilled with the reception
Golf
& Water
received at GIS and is
proud to shine a light on the work
of this industry in meeting the
challenges of water management
and conservation."
•
Golf & Water
|
ASGCA
Responsible
water stewardship
INSIGHT
14
|
By Design
A new publication from the ASGCA Foundation helps golfers
see how the game is committed to good water stewardship
Golf &Water: Case Studies in
Water Stewardship
is available
as a free download at
www.asgca.org/free-publications
.
Print copies of the book are available
for purchase at
Amazon.com
,
see
http://tinyurl.com/zpxsbgb
.
This book will help
those who develop
land—and make
decisions about how golf
fits into a community—
see how
golf is
committed
to good
stewardship
when
it comes to water, our
most vital natural resource