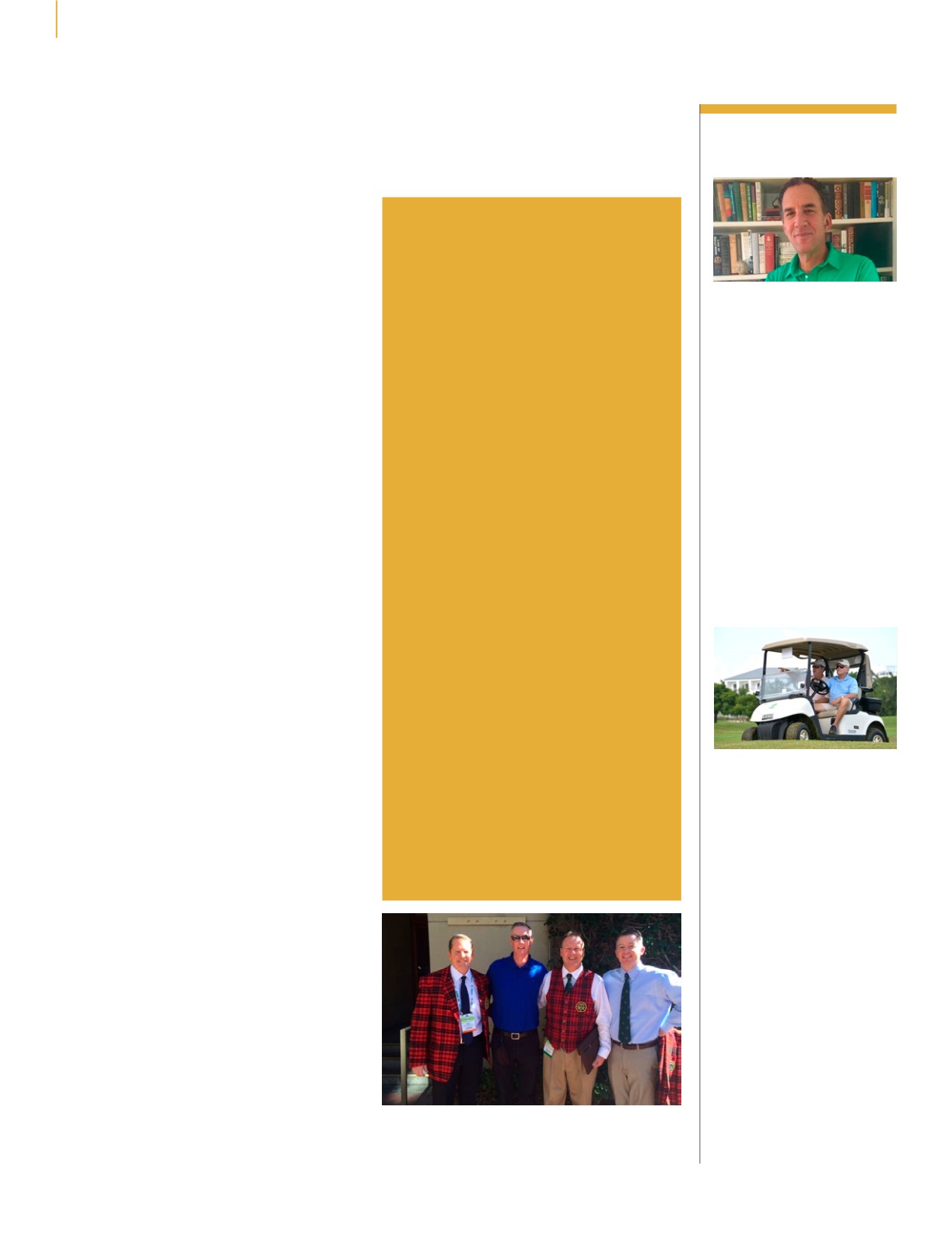 A
ttendees at the ASGCA Forum
during the recent Golf Industry
Show in San Diego heard President
Steve Smyers, ASGCA, provide insight on
how innovation has been a part of golf
course design from the game's earliest days.
"The most successful and recognized
golf course architects of past generations
were very forward-thinking guys, and the
founding members of ASGCA were leaders
in the game because they adapted to the
modern innovations of the game," he said.
"We must do the same. Some of the courses I
designed early in my career are modernizing
for the next generation of players, with new
sand or bunker liners, improved irrigation
and the introduction of new turf grasses."
Several ASGCA members provided
specific examples of how design
advancements have helped meet the
needs of players.
John Fought, ASGCA, spoke on the
evolution of putting greens, quoting
Charles Blair MacDonald, who said:
"Putting greens to a golf course are what
the face is to a portrait." Today, Fought
noted, greens are most often changed
for one of three reasons: grass varieties
and construction methods, maintenance
improvements, and greens speeds.
Rees Jones, ASGCA, presented on the
evolution of championship golf. Jones cited
a number of specific course examples from
a career portfolio that includes leaving his
mark on seven U.S. Open venues, eight
PGA Championship courses (including the
2016 course at Baltusrol Golf Club), and
five Ryder Cup sites.
Andy Staples, ASGCA, provided his
insight on water issues, highlighting the
release of the new
Golf & Water
publication
from the ASGCA Foundation, detailing
more than a dozen examples from courses
in North America and internationally
where ASGCA members and others from
the golf industry have positively impacted
the management of water (see page 14 for
more information). He also noted the 22
percent decline in water usage on courses
in North America in just eight years,
according to data from the Golf Course
Superintendents Association of America.
DIGEST
ASGCA highlights golf innovation
Golf Industry Show
05
Sharing success stories
The United States Golf Association
hosted 125 industry experts at their Pace
and Innovation Symposium in Pasadena,
California in January.
The event marked the third time the
USGA has brought together experts and
leaders from throughout the industry to
discuss the issues that often serve as
barriers to participation and enjoyment of
the game.
ASGCA members shared a number of
course design case studies:
• Todd Eckenrode, ASGCA, outlined
examples of turf reduction that
decreased maintenance expenses,
including Brookside Golf Club, which
removed 20 acres and saved $75,000
in water costs in 2015.
• Mike Benkusky, ASGCA, described his
redesign of Arlington Lakes Golf Club,
in Arlington Heights, Illinois, which
will offer three- and six-hole loops for
customers who don't have time for
longer rounds.
• Andy Staples, ASGCA, discussed
his design of Rockwind Community
Links, in Hobbs, New Mexico, which
strengthened the connection between
the municipal course and the community.
• Damian Pascuzzo, ASGCA, discussed
his 12-hole Challenge Course
at Monarch Dunes Golf Club, in
Nipomo, California, which hosts a
'Learn Golf' program.
Bamberger to receive
Donald Ross award
Michael Bamberger
—
a
senior writer for
Sports
Illustrated
and author of
several books on golf
—
has
been chosen by the ASGCA
as the 2016 recipient of the
Donald Ross Award. "Almost
every golf fan over the past
30 years has read and
been impacted by Michael's
writing, in newspapers,
on the pages of
Sports
Illustrated
, on the web or in
his books," said President
Steve Smyers, ASGCA.
Sanford and Nicklaus
collaborate in Naples
John Sanford, ASGCA,
and Jack Nicklaus, ASGCA
Fellow, are working
together on the redesign
of the course at Naples
Beach Hotel & Golf Club in
Naples, Florida.
"The green complexes are
relatively small, and Jack
wanted them partially open
to running shots, so about
50-to-60 percent of each
green is open to allow the
ground game," said Sanford.
"Of the 100 acres of turf,
we will take 30-to-35 acres
out of irrigation, resulting in
unirrigated natural areas.
We end up with 65 or 70
acres of irrigated turf, which
will reduce the watering
requirements."
ASGCA members Greg Martin, Mike Benkusky,
Jerry Lemons and Steve Weisser meet at the
Golf Industry Show in San Diego