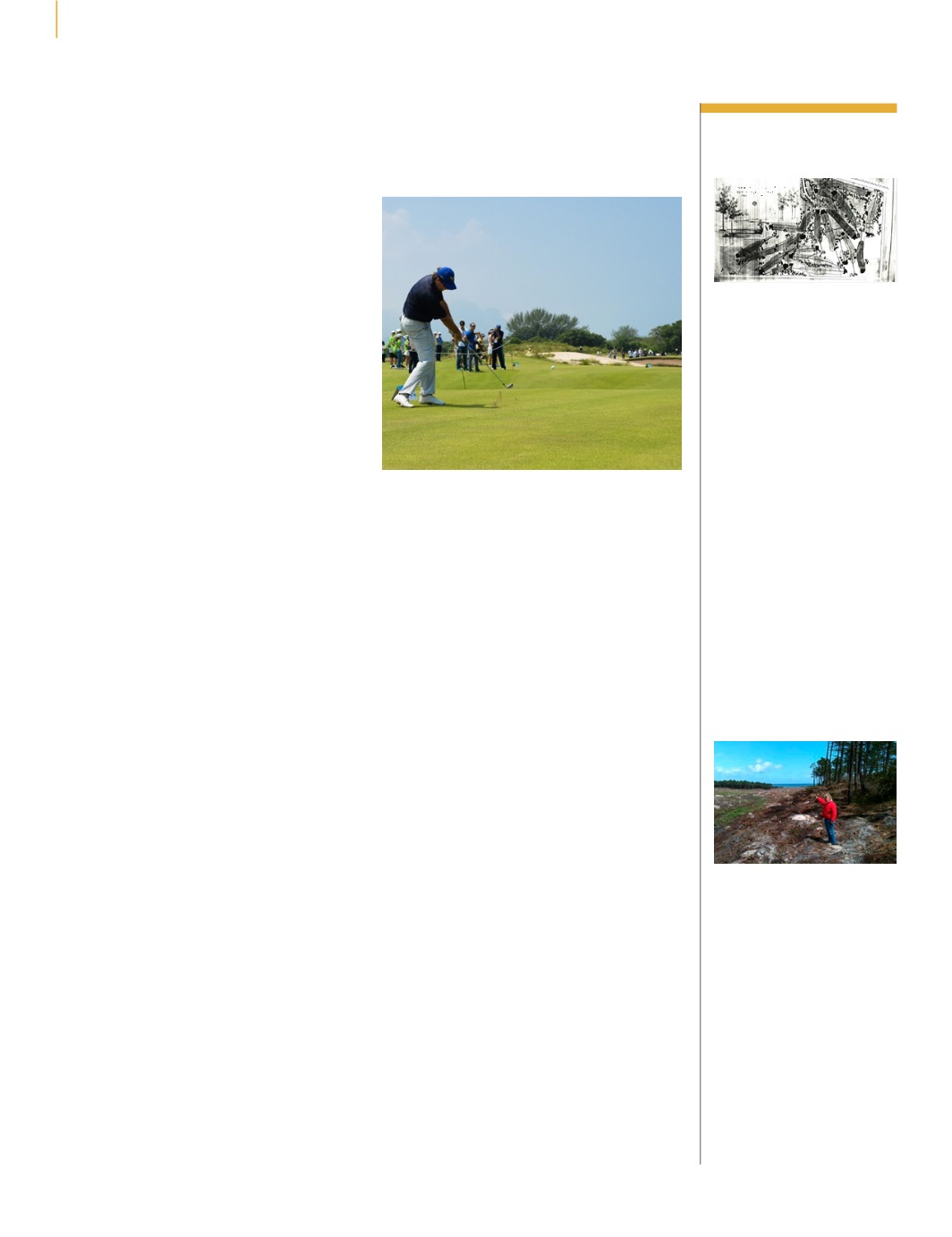 T
he first golfers to experience the
new Olympic Golf Course in Rio de
Janeiro, Brazil have responded with
high praise.
"My expectations were surpassed. It's a
fantastic course," said Victoria Lovelady. "It
will attract golf tourism, people will come
here to get to know a nice place and play
some golf."
Lovelady was one of nine golfers who
competed in the test event—the Aquece
Rio Golf Challenge—on March 8, 2016.
Brazil's top-ranked female player Miriam
Nagl said: "The conditions are very good,
the greens are perfect."
"Before we only had old courses in
Brazil. This is a modern golf course," said
competitor Alexandre Rocha, a
Web.com
Tour player.
The par 71 course was designed by Gil
Hanse, ASGCA, and will host the Olympic
golf competition in August 2016.
A report commissioned by the State of
Rio de Janeiro Department of Justice and
published in late February stated that the
course in Barra da Tijuca had: "contributed
to the growth of local vegetation" in the
Marapendi area, and that various species
of animal have in fact been returning to a
"once degraded area".
The report highlights environmental
benefits including a 167 percent increase
in vegetation, creating a "positive cycle
for fauna development," with 263 species
now found in the area—compared to 118
before construction.
DIGEST
Golfers praise Rio Olympic course
Olympic Golf
07
George design for Virginia resort
New Development
L
ester George, ASGCA, has been
hired to design a new golf course
in Virginia.
George will work with the Diatomite
Corporation of America to create a master
plan for Fones Cliffs—a new resort
property in Richmond County. The resort
will be built on land that forms part of the
Captain John Smith Chesapeake National
Historic Trail.
The site lies at the top of cliffs above the
Rappahannock River, where in 1608 a battle
between Captain John Smith and his crew
and Rappahannock Indians took place. The
new resort will look to memorialize this
encounter through a series of monuments,
as well as an education center.
"Having worked extensively in the
environmentally-sensitive Chesapeake
Bay Watershed for the past 25 years, we
understand the requirements of projects
like this," said George. "Fones Cliffs is one
of the most fascinating and beautiful sites
I have ever seen, and I speak for the team
when I say we will approach this property
with a very soft hand. We will design the
golf course with a goal of minimal land
disturbance, earth moving, and impacts to
the natural habitat in an effort to produce
an environmentally sustainable resort."
"Lester George has a proven, award-
winning record of creating challenging,
playable, beautiful, and environmentally
sustainable destination golf courses," said
Robert Coleman Smith, Richmond attorney
and Fones Cliffs project coordinator for
Diatomite Corporation of America. "You
only have to look at Kinloch Golf Club and
Ballyhack Golf Club here in his home state
to see his broad, creative design palate."
Rogers to reinstate Ross
design features at Kenosha
Drew Rogers, ASGCA, is
to lead a project to restore
the original design intentions
of Donald Ross at Kenosha
CC in Kenosha, Wisconsin.
Many hummocks, cops,
banks and faces still exist as
originally built by Ross, but
have been lost or obscured
by trees.
"When we open up these
corridors again, through
tree removal and fairway
realignment, the features
will again be exposed to
delineate Ross' very clear
design intentions," said
Rogers. "You'd never know
it, but these holes will be
far better defined without
the trees."
New Dye course in
construction in Portugal
A new golf course in
Obidos, Portugal
—
designed
by Cynthia Dye, ASGCA
—
is now in construction.
Dye's first design in Europe,
the new course will be part
of the Falesia D'El Rey Resort,
an hour north of Lisbon.
"I have never worked so hard
for so long to see a project
through to construction,"
said Dye. "For many years
we had to stay focused on
making this course a reality.
Now it's very rewarding to
see it come true."
Photo: Alex Ferro/Rio 2016