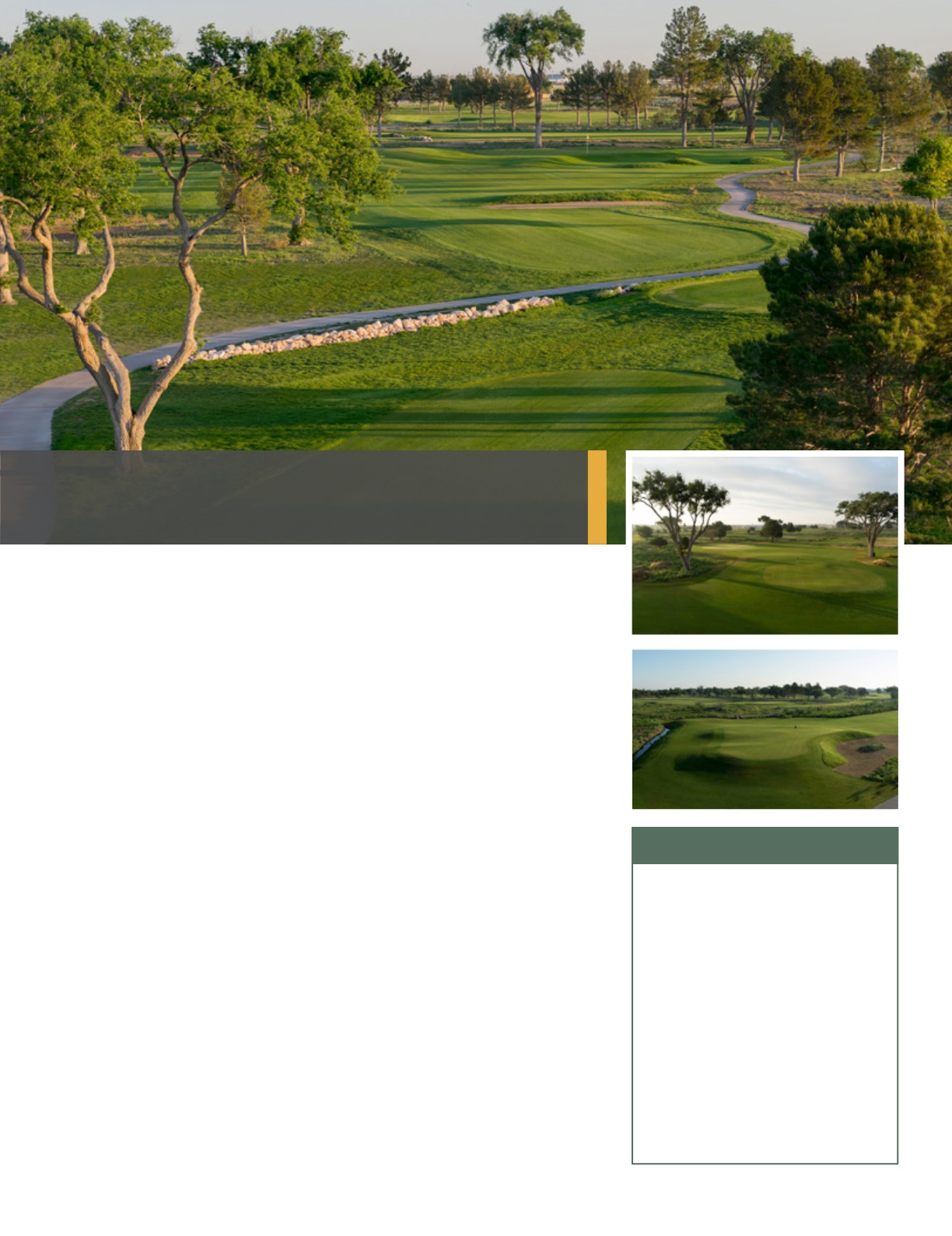 13
W
ith a golf course that was
operating inefficiently,
facing rising expenses
and falling player numbers, the city
of Hobbs in New Mexico needed to
make a change.
Conditions at the golf course, which
was situated on flat and featureless
land with extensive caliche rock, were
deteriorating. Exhaustive irrigation
repairs were frequently required,
demanding increasing investment in
man-hours, and there were further
problems relating to turf quality, water
conservation and resource requirements.
Local pride and enthusiasm in the
golf course all but disappeared while
ongoing struggles mounted. However,
the mayor and city council were
striving to improve quality of life and
availability of recreational facilities for
the community.
Andy Staples, ASGCA, introduced
the city to the sustainable design
philosophy of a 'Community Links,'
whereby the golf course would be an
asset for all of residents, including
non-golfers, and would use resources
efficiently, particularly important in a
region where water is precious.
In collaboration with the community
and project partners, Staples proposed
a solution that greatly improved the
existing golf course while expanding
the facility to attract more kids and
families. This included the integration
of walking trails, picnic areas,
expanded outdoor public-use space,
revitalized beginner golf programs,
and a First Tee junior golf program. A
new nine-hole par-three kids' course
was added, and the practice facility
was expanded.
Additionally, the 18-hole course was
completely upgraded through rebuilding
all bentgrass greens with California
construction methods, introducing
new grass-faced, sand-bottom bunkers
and new natural flowing tees. By sand-
capping all the turf areas, it was possible
to use drought-tolerant, cool season
dwarf bluegrass and fescues, helping
to reduce the water requirement to the
fullest extent possible.
The irrigation system was completely
rebuilt with 100% HDPE pipe, which
determined priorities for high play areas
versus the non-maintained landscape.
The new five-acre lake, designed to
retain 14 million gallons of effluent
water, is a feature of the public-use
space near the clubhouse, benefitting
the entire community, and enticing
residents to take interest in the game.
Location:
Hobbs, New Mexico
Golf course architect:
Andy Staples,
ASGCA, Staples Golf Design
www.staplesgolfdesign.com
Project summary:
A deteriorating city-
owned 18-hole course was redesigned
as a 'Community Links;' a centerpiece
for the entire community, focusing on
kids, families and beginner golfers.
Partners:
Design Office (landscape
architecture); Greenscape
Methods (irrigation design); Rain
Bird (irrigation); Watertronics
(pump station); Wadsworth Golf
Construction (construction)
Rockwind Community Links
A course for the community
City residents benefit from overhaul of public course
Photos: Tony Roberts