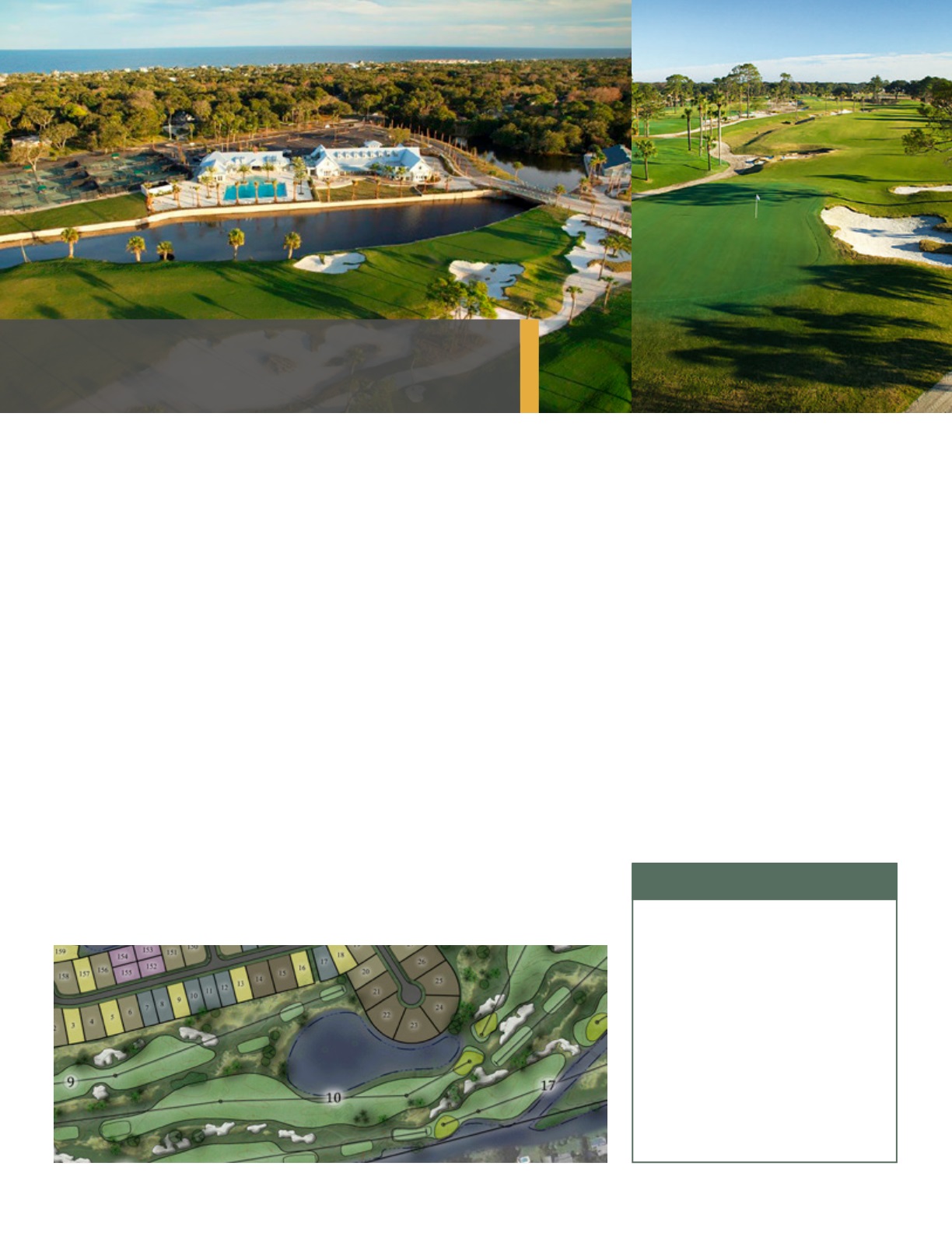 6
|
By Design
I
n its heyday, Selva Marina
Country Club offered members
the finest services and amenities,
including golf, tennis, a pool and
dining. It hosted the first Greater
Jacksonville Open, welcoming
competitors like Arnold Palmer,
Gary Player and Jack Nicklaus.
But in recent years, the club had
declined into near failure. Poor
quality irrigation water had made
it difficult to grow healthy turf, and
the loss of golf members created a
downward spiral that meant the club
was unable to maintain facilities to
an acceptable standard.
Remaining members were
passionate about returning the club
to its former glory, befitting its prime
location five blocks from the Atlantic
Ocean in the pristine beach town of
Atlantic Beach, Florida.
The club did have extra land available,
so it solicited proposals from local
developers to buy and develop a
portion of the property, while providing
a new golf and country club package.
The winning development team,
Atlantic Beach Partners, sought the
expertise of Erik Larsen, ASGCA, to
create a new master plan for the club.
Larsen's plan completely rearranged
the property. 178 residential lots were
created on a 55-acre tract in the center
of the existing golf course, around
which a new course was routed. New
golf practice facilities and a revitalized
clubhouse, tennis and pool area
would complete the development,
which would open with a brand new
identity—Atlantic Beach Country Club.
The new golf course was designed
to require significantly less water.
Roughs comprise drought-tolerant
grasses and native plants, meaning
that the irrigation system need only
cover tees, fairways and greens—with
re-use water supplied by the city.
Larsen has cleverly re-routed the
course over a smaller area—down
from 180 to 125 acres—without
compromising the golf experience.
The renovation has been a huge
success, quickly reaching the
development team's cash flow and
new membership projections. More
than 90 percent of the lots have been
sold and membership numbers have
risen from 200 to over 670.
"The facility is absolutely buzzing
with activity every day and night,"
says Larsen. "The course is getting
high praise from the several PGA
Tour pros who live in the area,
while also providing really fun golf
for members. The positive vibe of
the place is just a terrific feeling
and accomplishment, especially
remembering its desperate condition
two years ago.
"It demonstrates how this infill-
neighborhood approach can help revive
golf facilities around the country," he
adds. "This model is good for golf."
Bringing back the buzz
New master plan transforms Atlantic Beach club
Location:
Atlantic Beach, Florida
Golf course architect:
Erik Larsen, ASGCA, Larsen Golf, Inc.
www.larsengolf.net
Project summary:
An ambitious new golf
and residential master plan transformed
the once-grand but failing Selva Marina
Country Club into a thriving, walkable
community with a new identity, Atlantic
Beach Country Club.
Partners:
Atlantic Beach Partners
(development team); Kelly Elmore
(landscape architect)
Atlantic Beach CC