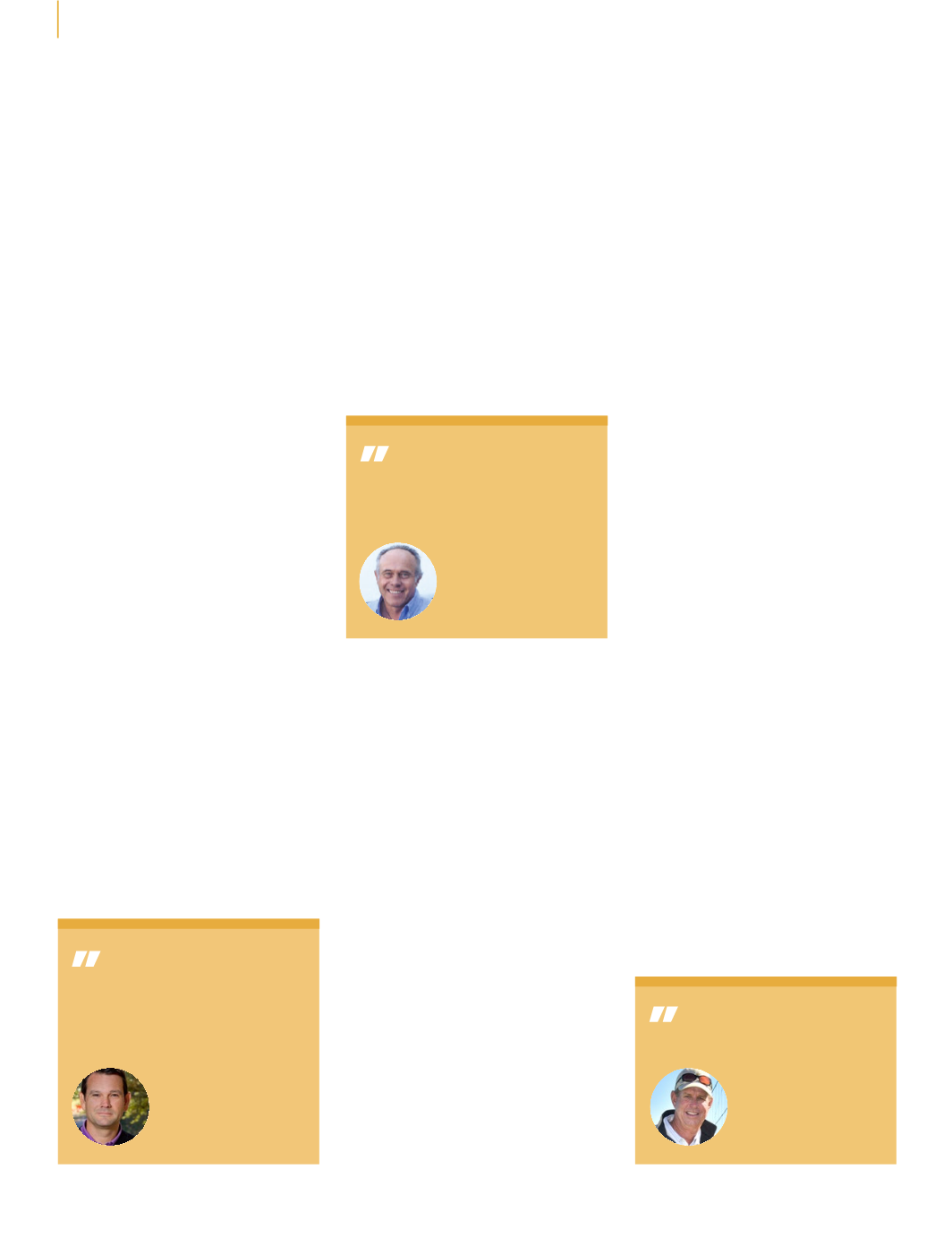 20
|
By Design
I
t's a common scenario: a change
to the golf course is required,
or has been proposed, and the
superintendent is asked to handle
it themselves. But even for small
projects, partnering with a golf course
architect can reap many rewards.
Jeffrey Brauer, ASGCA Past
President, highlights the broad
perspective that a golf course
architect can offer: "Typically,
superintendents design for
maintenance, contractors design
for construction ease, and members
design for their own games. Golf
course architects design from all
perspectives, and have the skills to
bring it together with appropriate
compromises."
On average, ASGCA members have
almost 30 years' experience and have
been involved with nearly 150 projects.
This wealth of experience means
that they will often have previously
addressed, multiple times, issues that a
golf club may face only once.
"It is not often that there is an
emergency on a golf course, but
one client encountered a situation
recently that required immediate
attention," explains Scot Sherman,
ASGCA, of Greenville, South
Carolina. "A bridge crossing one of
their lakes had become very unsafe.
Having worked with many talented
bridge builders in the past, I knew
what to construct. Despite there
being no specialist bridge builders
available in the area and timeframe
required, I was able to work alongside
a commercial building contractor
who was working on another project
on the site to create a solution."
Sherman, the contractor and club
collaborated and in six working
days they designed, constructed and
opened the new bridge, spanning 50
feet across the lake.
"Our years of experience with
all kinds of design solutions have
prepared us to address every detail
of a golf course, no matter what the
situation," concludes Sherman.
Throughout North America there
are ASGCA members who conduct
the majority of their business
regionally—this proximity enables
them to offer a great service, even for
small projects.
"I had a client that just wanted
to add one sand bunker and one
forward tee. But they couldn't agree
where to put them, so they gave me
a call. I had another appointment
nearby so it was easy for me to call in
and take a look," says Stephen Kay,
ASGCA, who is based in New Jersey
and has worked for more than 300
clubs, primarily in the Northeast.
"The original plan for the bunker
would have put it on the main
irrigation line, so it needed to be
moved, up to 20 yards one way or the
other. And that would then impact
the placement of the forward tee.
"In addition to making sure
the work went smoothly and on
budget, one great benefit to the
club was having someone to take
final responsibility for the decision.
It gave them confidence that they
were making the correct choice, and
Small projects
|
ASGCA
The wise decision
INSIGHT
With more and more small renovation projects taking place
at courses, golf course superintendents are working in concert
with ASGCA members to ensure a project's success
Our years of experience
with all kinds of design solutions
have prepared us to address
every detail of a golf course, no
matter what the situation
Whatever you move on a
golf course, there are safety
issues and a standard of care
to consider
Hiring an architect is not
as expensive as many perceive
Scot Sherman,
ASGCA
Stephen Kay,
ASGCA
John Sanford,
ASGCA