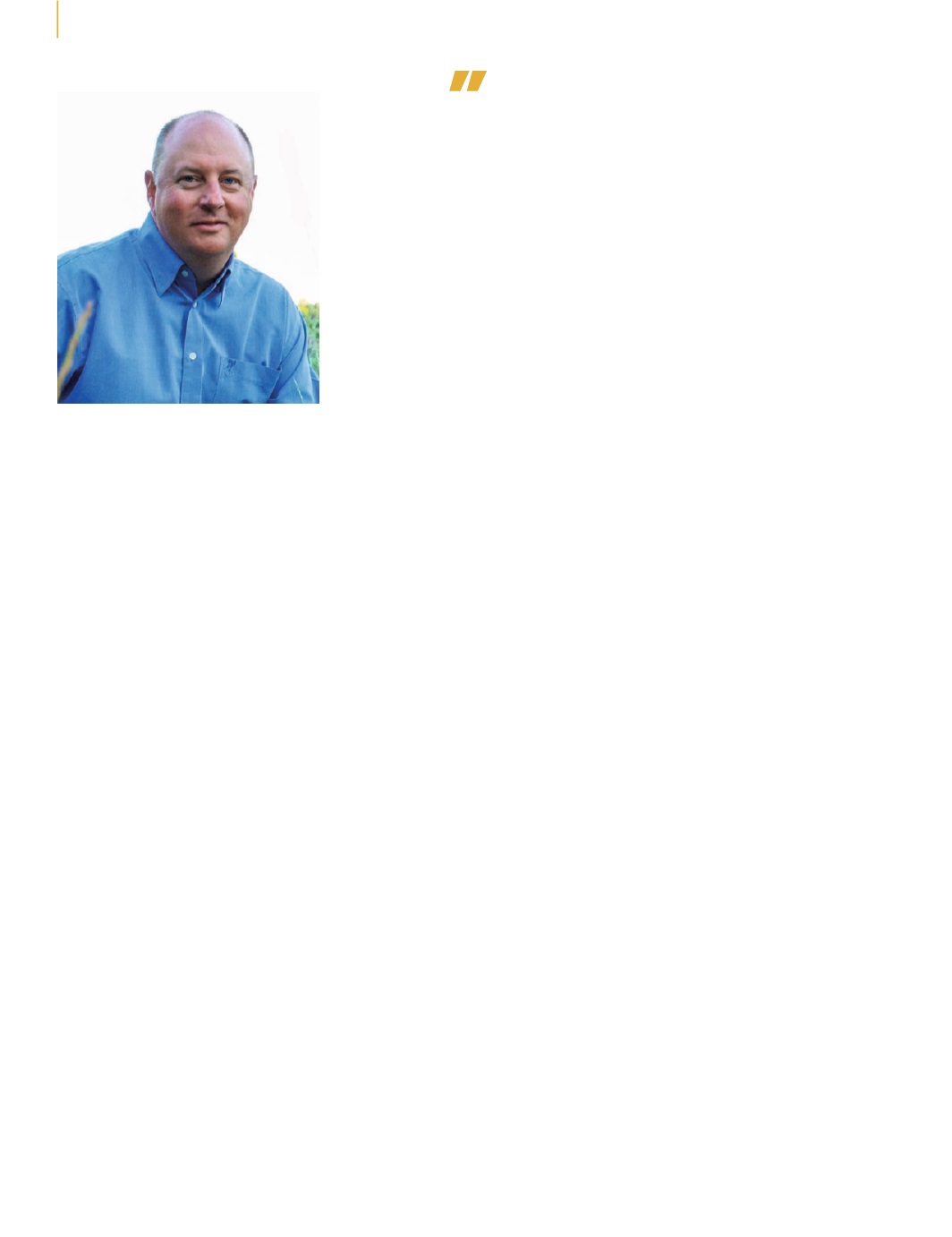 22
|
By Design
F
resh off the back of the highly
regarded restoration of Harry
Colt's work at Old Elm in
Chicago, Drew Rogers, ASGCA, is
enjoying a thriving design business.
He has multiple projects under way
throughout the United States, his
growing portfolio built on a reputation
as a great collaborator who delivers
an outstanding final product. His
skills were developed during 19 years
working with Arthur Hills, ASGCA Past
President—a period which included
the design of Newport National in
Rhode Island and Oitavos Dunes in
Portugal—before establishing his own
design business in 2010.
How is your game?
I was a decent player when I was
younger. But now, it's tough to put
much of anything together unless I'm
able and willing to work for it—and
therein lies the challenge. I guess that
has taught me some humility! I found
a good teacher last summer here in
Sylvania, Ohio, so we're working on
some things that will hopefully help
me to start breaking 80 again!
Which three people would make up
your dream fourball?
I know this much, those three folks
better be able to laugh and have fun!
Recently, my 12 year-old son has
taken up the game. I enjoy watching
him develop—he has the proper
attitude, so he would have to be one.
Ben Crenshaw would be another—he
just seems to have an ideal disposition
and perspective of architecture
and the game, he smiles a lot and
represents golf with great values.
Perhaps Old Tom Morris could come
back and join as the third. It is said
he was a cheerful and humble fellow,
kindly and gentle—and with all that
inspiration in him to promote our
great game, I think a chance to spend
time with him would provide for a
fascinating and unforgettable day.
What is your favorite hole in golf?
I'm more a fan of a strategic, thinking
man's test than holes requiring brute
strength and precision, so it would
have to be a short par-four (under
330 yards) or a short par-three
(under 120 yards). Shorter holes
don't tend to exclude the potential
for success or enjoyment by lesser
skilled players, yet they can still
imply just enough treachery to give
good players fits—that's what great
holes do, in my opinion. I can't say
as I have a particular favorite, there's
just too many to consider, but the
tenth at Riviera and 'Postage Stamp'
eighth at Royal Troon are great
examples. More recently, I have been
inspired by Bandon Preserve, the
13-hole par-three layout by Coore &
Crenshaw in Oregon. I can't think
of a more enjoyable golf experience
anywhere in the world than those
magnificent short holes.
If you could change or add one rule,
what would it be?
Perhaps a stiffer enforcement of the
time it takes to play would benefit
everyone's enjoyment of the game.
The Brits rarely allow a four-ball
match (only on certain days or after
certain hours) and medal play is
seldom favored over match play. A
move in that direction would help
improve speed of play here in the US.
What project are you currently
working on?
Most of our work is course
renovation and restoration these
days—and I really enjoy that blend
of work. I'm fortunate to be really
busy, just off the heels of our
reinstatement of Harry Colt's Old
Elm in Chicago. A similar approach
is now in motion at Kenosha
Country Club in Wisconsin, an
intact layout by Donald Ross.
When complete, that course will
demand some much deserved
notice. Perhaps one the most
exciting projects right now is Canal
Shores in Evanston, Illinois—a
reassembling of the course there
into an amazing presentation of golf
offerings in promotion of 'golf for
everyone' in an urban neighborhood
setting. I'm collaborating on that
one with a creative team consisting
of the USGA, Luke Donald, Dave
Zinkand and fellow ASGCA
member, Todd Quitno.
•
FIVE TO FINISH
J. Drew Rogers, ASGCA
provides answers to our
Five to Finish questions
I'm more a fan of a
strategic,
thinking man's test
than holes
requiring brute strength and precision