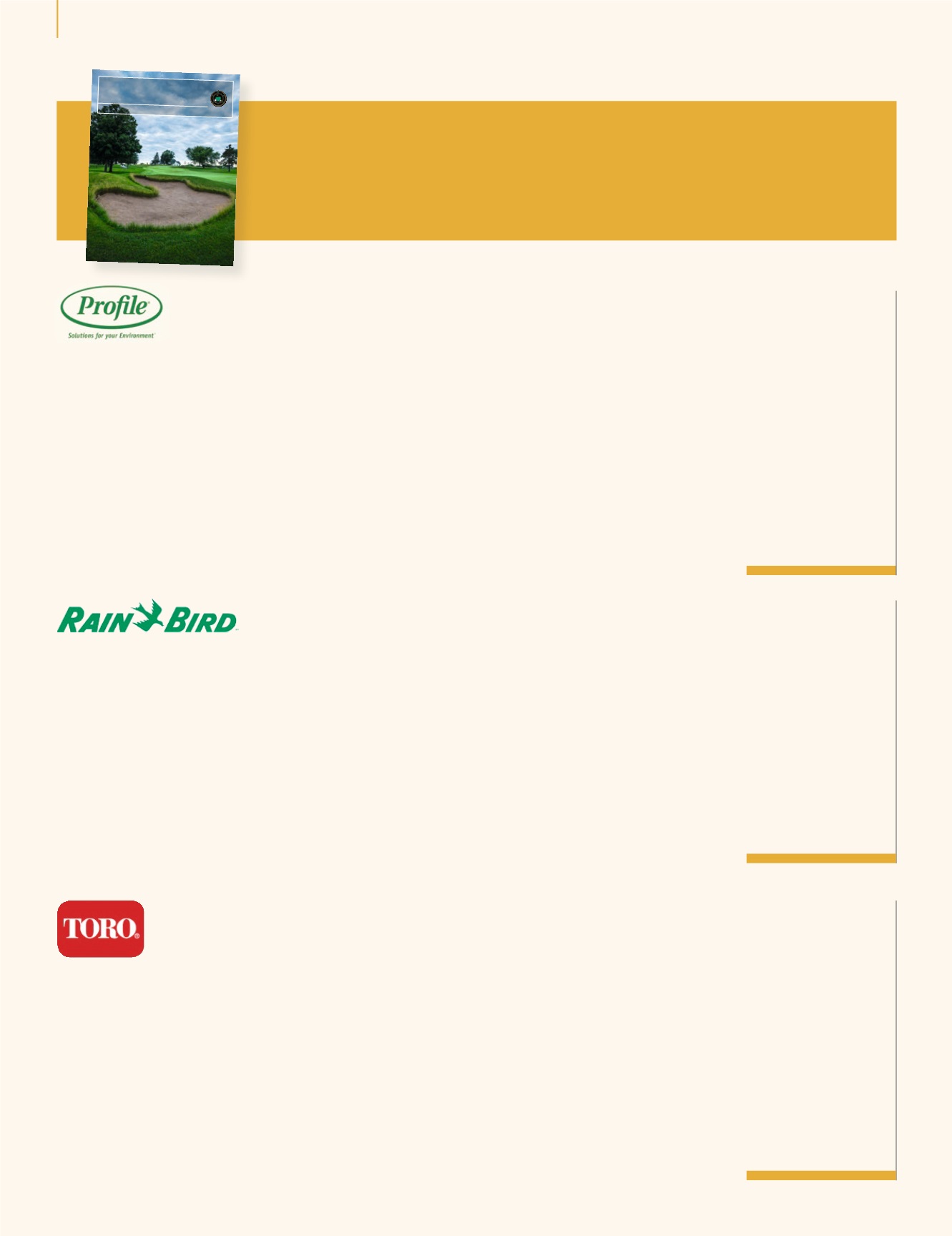 SPONSORS
municipal
golf
Also:Design innovation •Watermanagement• Scoring tees • Small projects
Excellence inGolfDesign from theAmerican Society ofGolfCourseArchitects
BY DESIGN
Issue 27 | Spring2016
Great
By Design
would not be possible without the support
of its sponsors, who have played a key role in the
publication of this magazine.
23
Toro
The Toro Company is proud of its legacy of quality and innovation. Customers around the world rely on Toro for high performing
products that include precision fairway and rough mowers, greens mowers, compact utility loaders, commercial zero-turn mowers, bunker
management machines, and water-efficient irrigation systems.
In 1921, Toro developed the first fairway mower and six years later shipped the company's first golf maintenance products overseas.
Today Toro continues to lead the global market with best-in-class turf maintenance equipment and precision irrigation solutions.
Approximately two-thirds of the top 100 courses in the world use Toro irrigation systems. The company also leads the way in environmental
innovations, making products safer, cleaner and quieter whenever possible.
www.toro.com
Profile Products
Profile Products manufactures a comprehensive line of soil modification, erosion control and turf establishment products. Its experienced
team takes a consultative approach with golf course architects, builders and superintendents to design and specify customized solutions
for maintenance and construction.
Profile's team designs root zone mixes utilizing Profile Porous Ceramics to meet USGA guidelines. Its ceramics permanently modify the
root zone to better conserve water and retain nutrients.
Profile's complete line of hydro-seeding products is the leading specified brand by golf course architects. Profile works with architects and
project managers, establishing effective erosion control and vegetative establishment practices.
www.profileproducts.com
Rain Bird Corporation
Since 1933, Rain Bird has built a reputation on delivering irrigation systems that combine performance with efficiency. Rain Bird leverages
state-of-the-art technologies to innovate and develop products that apply water in the most effective and efficient manner possible.
From highly-efficient sprinkler nozzles to cutting-edge control systems and pump stations, Rain Bird is widely recognized as the leader in golf course
irrigation control system technology. We take the challenge of using water responsibly very seriously. That's why our over-arching philosophy,
The
Intelligent Use of Water
™, guides everything we do. The revolutionary Integrated Control System™ provides innovation at a lower overall cost to
golf courses enabling the user to maximize system efficiency and conserve water with a smaller environmental footprint.
For more information, please contact 1-800-RAINBIRD or visit:
www.rainbird.com