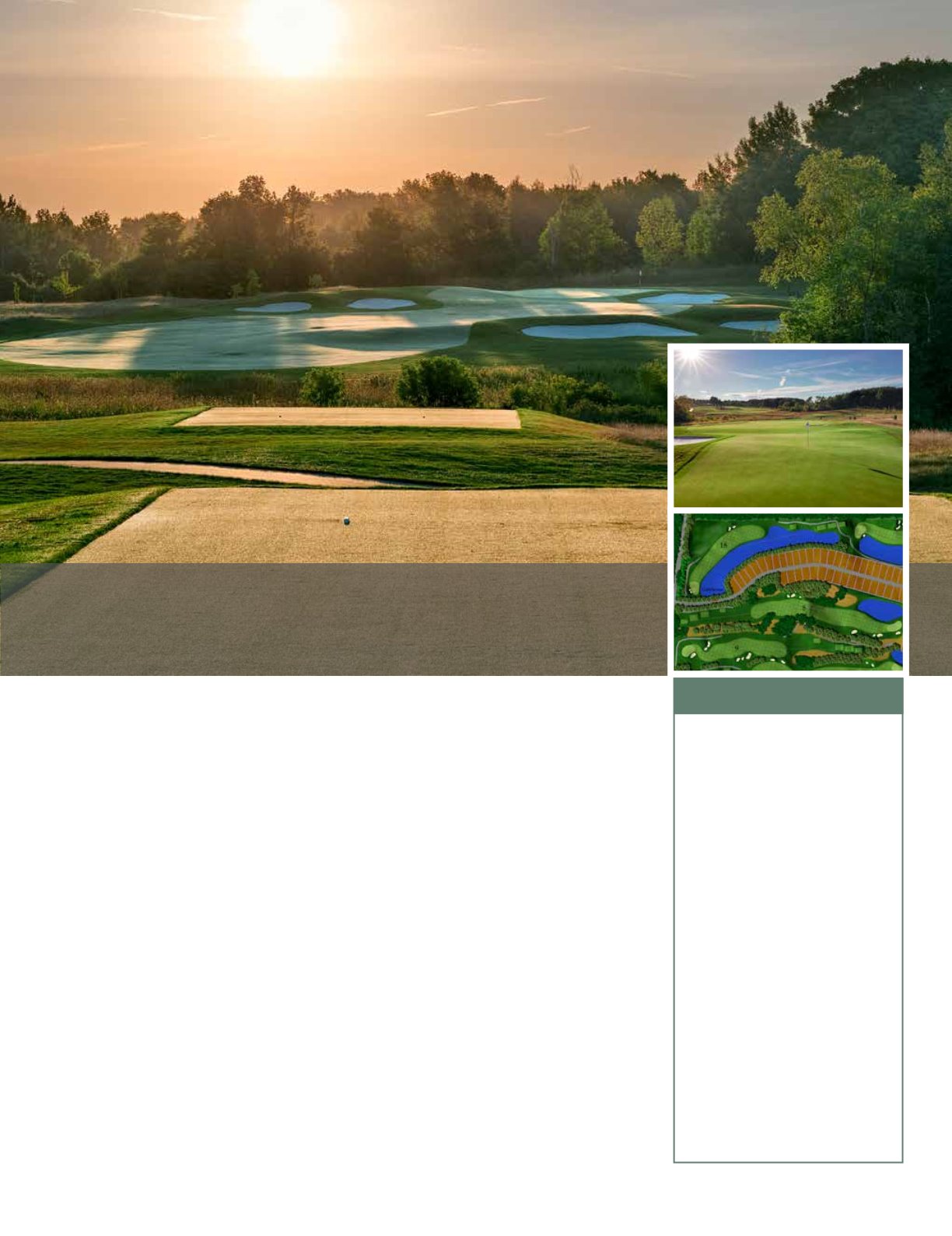 10
|
By Design
Photos: Clive Barber
Location:
Aurora, Ontario
Golf course architect:
Doug Carrick, ASGCA Past President
Carrick Golf Design
www.carrickdesign.com
Superintendent:
Colin Young
Project summary:
Lebovic Golf Club forms part
of a residential community of
75 homes on the Oak Ridges
Moraine, an ecologically
important landform. The new golf
course was created with extensive
consideration to environmental
factors, including forest, wetlands,
aquifers and wildlife.
Partners:
Evansgolf (construction);
Turfcare–Toro (irrigation);
Silicorp (bunker sand);
Ontario Seed Corporation (seed);
ADS Canada (drainage)
Lebovic Golf Club
S
ituated on approximately 260
acres of environmentally sensitive
land on the Oak Ridges Moraine
near Toronto, Canada, Lebovic Golf
Club required 20 years of rigorous
planning, environmental study and
construction to complete.
Designing a workable golf course
layout along with 75 housing lots on
the compact site required a sensitive
design that preserved important natural
features, including 45 acres of forest,
kettle wetlands, a stream tributary and
the natural terrain character of the Oak
Ridges Moraine.
Restrictions placed on the use of
ground water meant the design had to
rely solely on storm water runoff and
treated effluent as the sources of water
for irrigation.
The course design for Lebovic Golf Club
sees the first seven holes located on the
west side of a heavily travelled regional
road, and the remaining 11 holes on the
east side. The ninth and eighteenth greens
are situated relatively close to a tunnel
crossing under the road that connects
the finishing holes to the clubhouse on
the west side of the road. A single long
cul-de-sac extends eastward from the road
providing every one of the 75 homes with
a direct view of the golf course.
The environmentally sensitive
design channels water runoff from
the residential development into a
series of ponds, where it is recycled for
irrigation purposes. All of the ponds are
interconnected, allowing the levels to be
controlled for water storage and use. The
main irrigation pond, located adjacent
to the seventh green and maintenance
facility, blends the treated effluent with
storm water runoff before being applied
to the golf course.
The course layout preserves and
integrates a number of natural features
into the individual hole designs,
including four kettle wetlands, a newly
created wetland, a naturalized stream
corridor and 45 acres of protected forest.
Environmental design
A new golf development in Aurora, Ontario, was designed with extensive
consideration to environmental factors