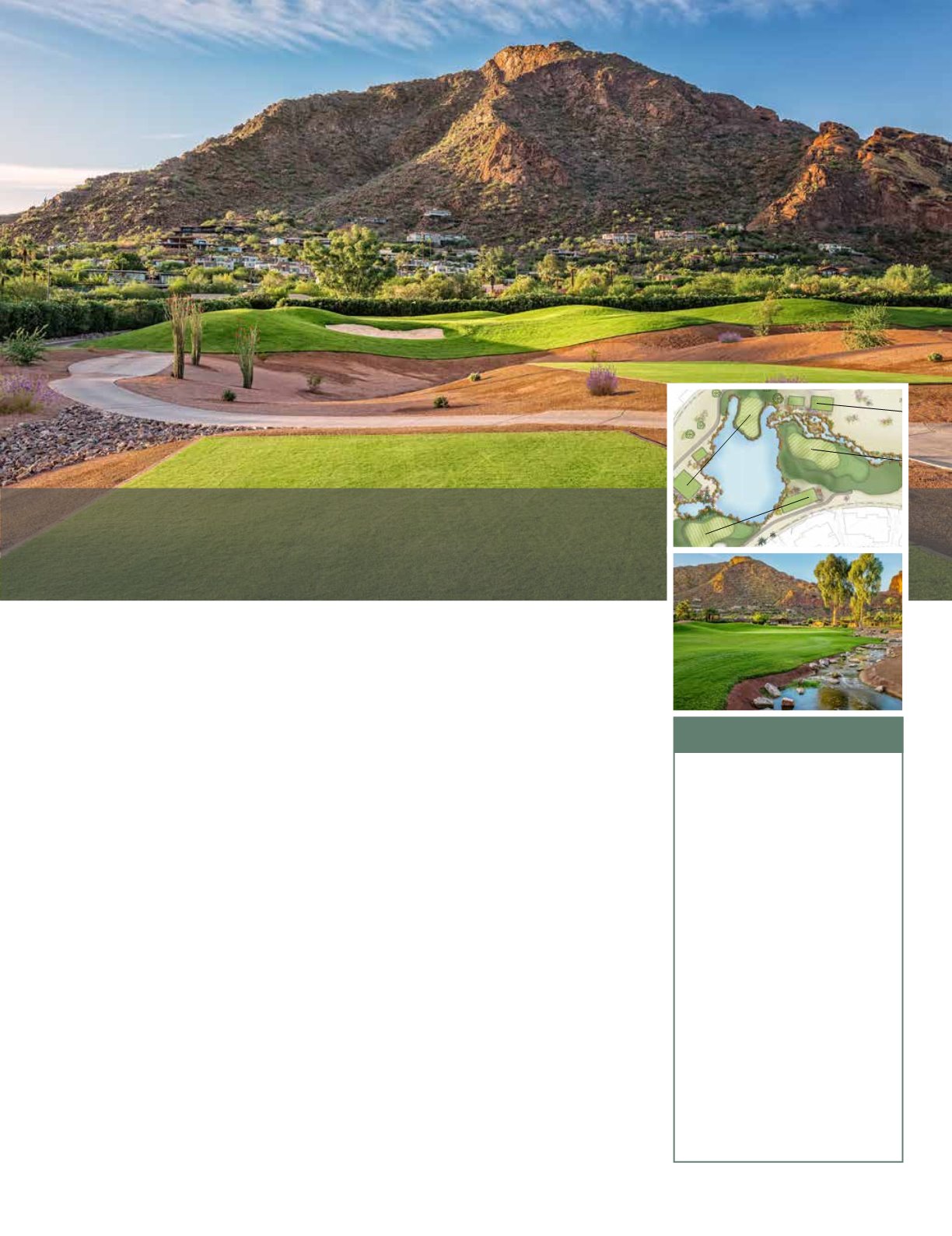 12
|
By Design
Photos: Dave Sansom
Location:
Paradise Valley,
Arizona
Golf course architect:
Forrest Richardson, ASGCA
Forrest Richardson & Associates
www.golfgroupltd.com
Project summary:
After 10 years
of planning, a redesigned short
course has helped to revive the
Mountain Shadows community
in Paradise Valley, Arizona,
accommodating resort expansion
while conserving water and
providing a fun golf experience.
Partners:
Landscapes Unlimited
(construction); Landscape Golf
Services (grow-in); Watertronics
(pump station); Better Billy
Bunker (bunker liner); West
Coast Turf (turf); Turf Drainage
Co. (drainage)
T
he Mountain Shadows Golf Club
in Paradise Valley, Arizona, was
originally designed by Arthur
Jack Snyder, ASGCA, and opened in
1961. The par-56 layout was one of the
first 'executive' courses, catering to
those who may have time to slip away
for a few hours, but not a whole day.
Snyder's vision also included the
design for the entire Mountain Shadows
community—a resort site and 127 single
family homes. The design was well ahead
of its time—an 18-hole layout on less
than 40 acres with short holes in all
varieties. Newspaper ads highlighted its
virtues: "less time to play, and enjoyable
for the whole family."
By the 1990s, the resort and golf fell
into disrepair, and in 2005 it was sold
with a view to redevelopment. The
resort closed, but golf remained open.
The problem for the new owners was
twofold: how to get redevelopment
plans approved, and how to reconfigure
the course to recapture the charm that
Snyder has originally created.
Forrest Richardson, ASGCA, worked
on the project from 2005 to 2015
and attended more than 30 public
hearings in an effort to appease the
community and town towards a suitable
redevelopment plan.
The community wanted no new resort
buildings more than two stories high,
but their beloved golf course to remain.
A compromise was ultimately reached
where the new, fully rebuilt resort would
expand to accommodate the height
restriction, slightly reducing the golf
course footprint.
Richardson developed a new golf plan
for 18 par-three holes, with acreage
reduced by 25 percent and turf from 33
to 13.5 acres. "Reducing the managed
turf was simply the right thing to do,"
he says. "Because this part of Phoenix
has no alternative water source, such
as reclaimed water, we knew up front
that sustainability in terms of water
conversation was paramount."
The result is The Short Course at
Mountain Shadows, one of fewer than ten
high-end resort 18-hole par-three courses
in the world. The course length is 2,400
yards, with holes ranging between 75 and
195 yards. Features include an innovative
par-2 bonus hole 'Forrest Wager,' and a
double green for holes 13 and 14.
Mountain Shadows
4
5
6
7
11
12
12
13
14
15
16
Maint.
Facility
56th STREET
McDONALD DRIVE
M O U N T A I N S H A D O W S G O L F C L U
Rebirth of a visionary course
Redesign project helps revive a residential and resort community, and restores
the original vision for a quick and fun golf experience