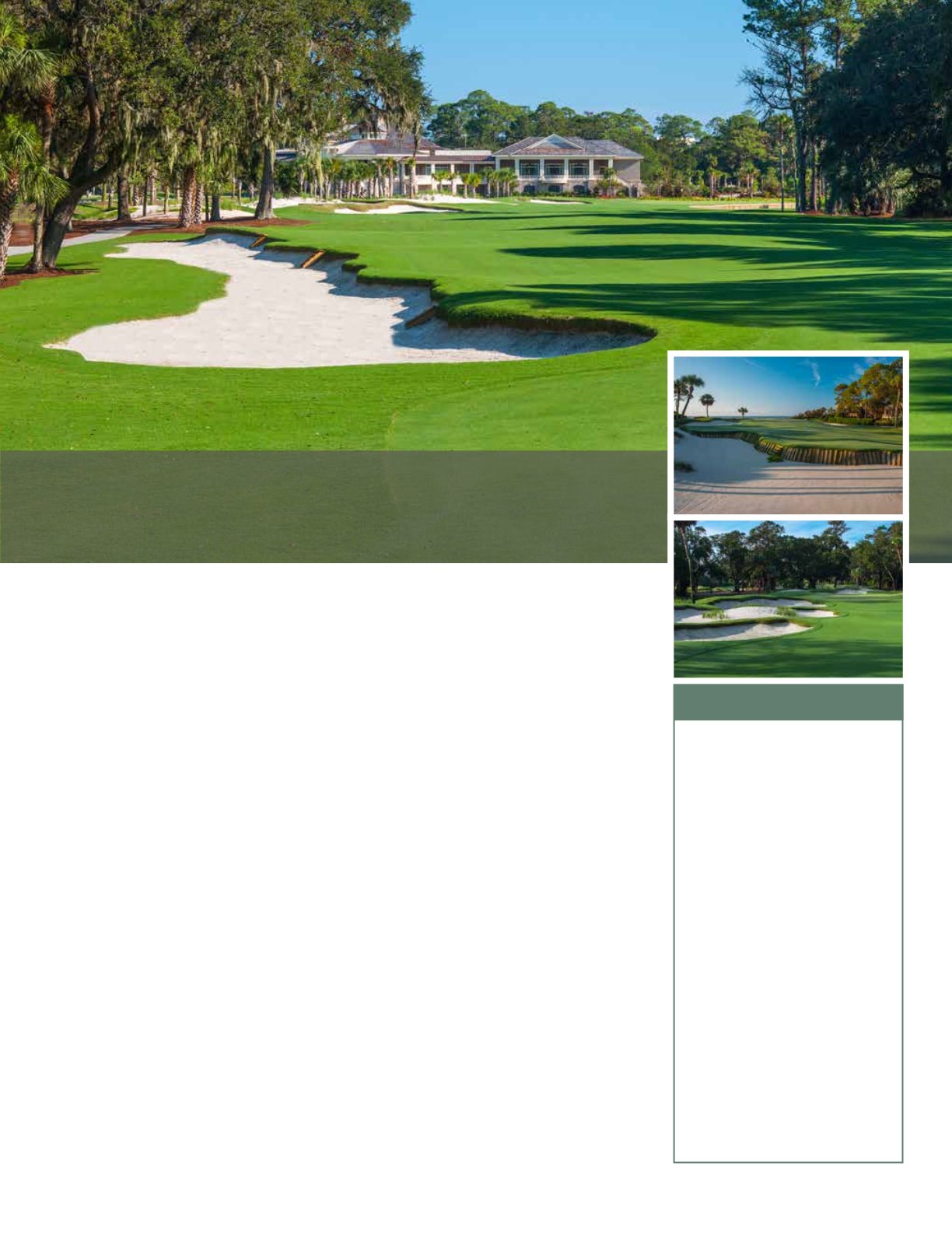 16
|
By Design
W
hen the Goodwin family
purchased The Sea Pines
Resort in 2005, they were
thrilled to have stewardship over the
historic property they knew so well.
However, the challenge to improve their
facilities was daunting. "It was blatantly
obvious that our assets were tired and
needed a lot of work," said Matthew
Goodwin, chairman of the resort.
In the years since they built two new
clubhouses and a beach club, and
renovated two of the three golf courses
at the resort. Their attention then turned
to the Ocean Course, the first golf course
ever built on Hilton Head Island. The
old course was choked with trees, its
infrastructure was dated, conditions were
marginal and the layout did not fit well
into its native Lowcountry surroundings.
The Sea Pines team selected Love Golf
Design to assess the Ocean Course and
specifically address the agronomic,
infrastructure, playability, strategic
and aesthetic shortcomings evident
on the property. The obvious solution
was to take advantage of plentiful land
available and build a completely new
course in place of the old layout. So,
the resort worked with Scot Sherman,
ASGCA, Davis Love III and Mark Love to
formulate a plan which was only limited
by the course's property boundaries.
"As the first eco-planned destination in
the U.S., Sea Pines has become known
for its respect of the surrounding
environment. However, because the
owners wanted to build a strategic
course that was also player friendly,
creating width was imperative," explains
Sherman. During an extended permit
process, the team worked with various
agencies to remove more than 500
trees, reposition lagoons, and re-route
several holes while also infusing a
native landscape into the property.
The resulting course, renamed Atlantic
Dunes, includes all new greens, tees
(including a new 'family course'),
bunkers, irrigation, drainage, turfgrass,
cart paths and bridges, all thoughtfully
designed to evoke a seaside ambience.
The golf course style is distinctly timeless
and blends with the Lowcountry feel
accented by restored dunes, 50,000 new
seaside grasses, coquina shells, and the
area's native pines and oaks.
"Sea Pines is one of my all-time favorite
places to play and visit, so we're excited
Atlantic Dunes will be in line with the
great golf offered by Harbour Town and
Heron Point," says Davis Love III.
At one with nature
Hilton Head Island's first golf course has been completely
renovated, and now sits in harmony with its Lowcountry setting
Location:
Hilton Head Island,
South Carolina
Golf course architect:
Scot Sherman, ASGCA with
Davis Love III and Mark Love of
Love Golf Design
www.lovegolf-design.com
Project summary:
The owners of
The Sea Pines Resort felt it was
time to reconstruct the Ocean
Course, the first course ever
built on Hilton Head Island. The
new course, renamed Atlantic
Dunes, incorporates elements of
the beachfront and the island's
native vegetation.
Partners:
MacCurrah Golf
Construction, Inc. (construction);
A.S. Altum & Associates
(irrigation design); Toro
(irrigation); Alpha Marine
(bridges, retaining walls);
Thomas & Hutton (engineering)
The Sea Pines Resort
Photos: Larry Lambrecht