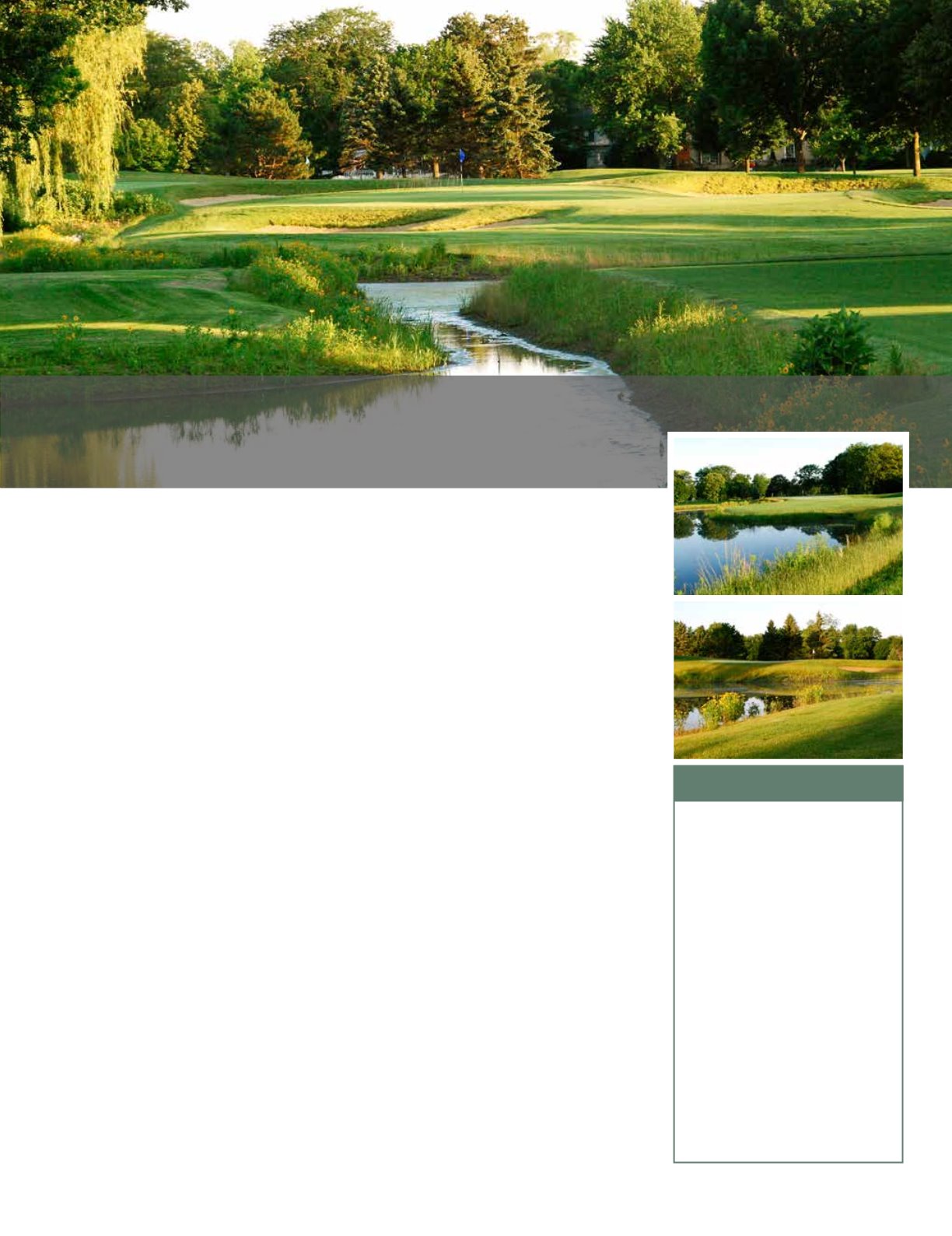 18
|
By Design
Photos: Greg Martin
O
riginally built in 1922, the
course at Wilmette Golf Club
has undergone a variety of
modifications over its 90-year history.
Greens were constructed or reconstructed
in the 20s, 40s, 70s and 90s. The course
had an assortment of bunker styles, shapes,
sizes and infrastructure. Tees had little
or no uniformity. And some beautiful
stands of oak trees were obscured by new
plantings that had overgrown fairways.
The course had poor drainage capacity
and, due to its proximity to the North
Branch of the Chicago River, suffered
frequent flood damage.
These factors led to numerous turf
issues, and maintenance became reactive
to flooding and the summertime heat
stress, with playability suffering.
The challenge was to enhance this
public golf course to better serve the
golfing community, providing wider
playing corridors with tougher green
settings, while simplifying maintenance
and creating a golf course that was more
resilient to rain events, with sustainable
development options.
After extensive research, ASGCA
President Greg Martin, ASGCA, created
a master improvement plan. It called for
13 new greens to conform with the five
existing USGA greens, full renovation of
all bunkers, new tees for 12 holes, a full
drainage system overhaul, 'through-the-
green' shaping and irrigation upgrades.
Most importantly, the plan called for
water management solutions focused on
solving the drainage and maintenance
problems and reducing the impact of
floods on golf-specific areas. Ponds were
expanded to accommodate greater storm
surges, and connected with a bioswale
that meandered through the course and
slowed the movement of water during
rain events. Wetlands were introduced
to provide active buffer systems and
improve water quality. And using the
material generated by these expansions,
fairways and playable areas were raised to
acceptable standards.
With the renovation complete,
maintenance is now focused on tees,
greens, fairways and bunkers, and
golfers are enjoying the more consistent
conditions. The course can now withstand
two-day rainfall totals of 2.5 inches,
which would have previously halted play
and required significant clean-up and
restoration. Turf resiliency and water
quality is better, neighborhood storm
water management has been expanded
and the environment is more diverse.
The renovation of Wilmette Golf
Club has been successful thanks to the
environmental approach to the project.
Golfers have been enthusiastically
supportive throughout the process
and—describing the revitalized course as
'fun,' 'beautiful,' 'challenging but fair' and
'enjoyable'—are thrilled with the outcome.
An environmental approach
Environmental considerations were a primary focus of the successful
renovation project at Wilmette Golf Club
Wilmette Golf Club
Location:
Wilmette, Illinois
Golf course architect:
Greg Martin, ASGCA President
Martin Design Partnership, Ltd
www.martindesigngolf.com
Project summary:
The course
at Wilmette Golf Club needed
significant work. Poor drainage
and its proximity to the North
Branch of the Chicago River
meant it was frequently flood
damaged. An environmental
approach to renovation was key
to successfully updating this well-
used and beloved golf course.
Partners:
Wadsworth Golf
Construction (construction); Rain
Bird (irrigation)