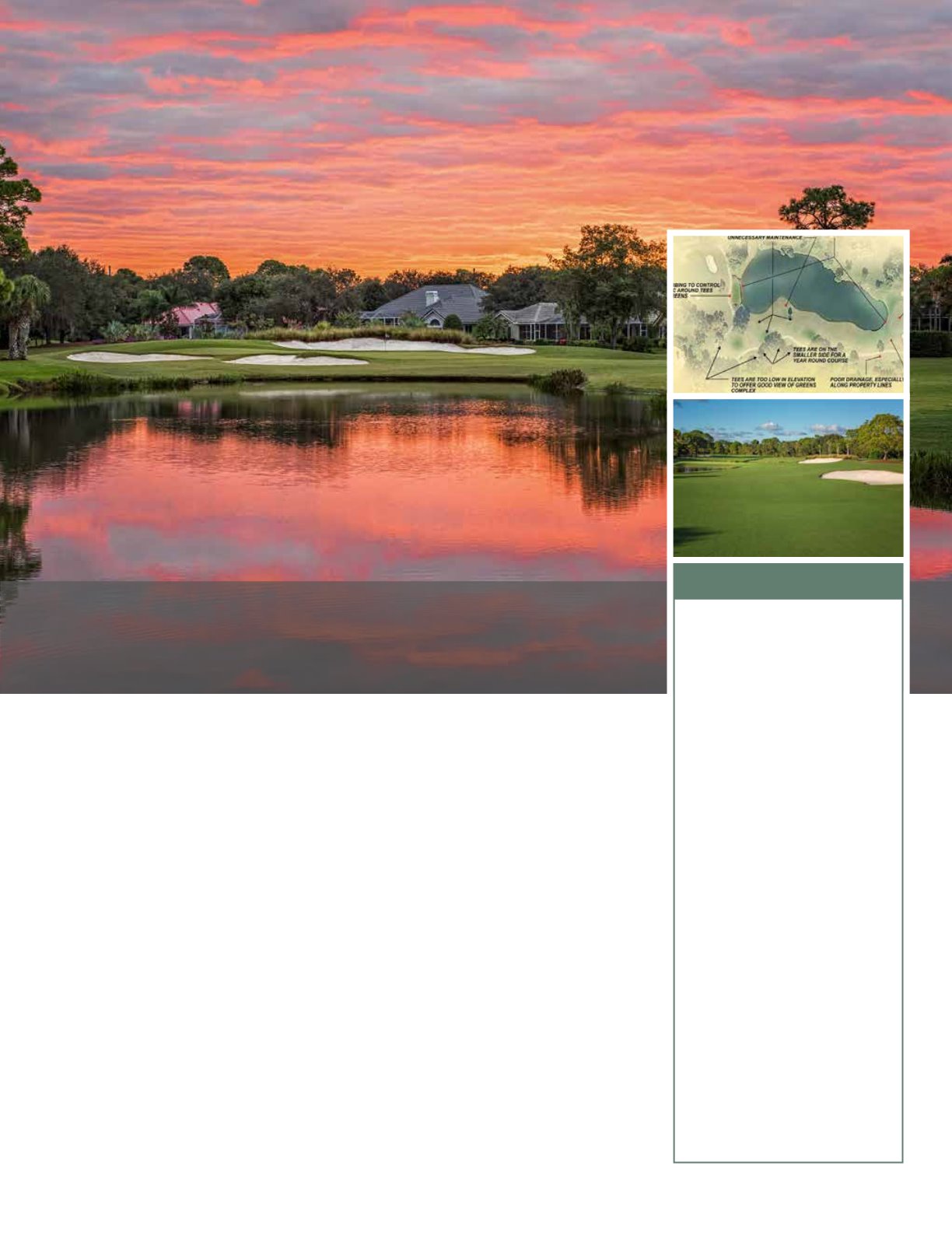 14
|
By Design
A team effort
Great communication and teamwork were the keys to a successful
renovation of the Heron Course at The Oaks Club in Osprey, Florida
T
he Heron Course at The Oaks
Club in Osprey, Florida, faced
major infrastructure problems,
including poor drainage, issues with
playability, inadequate irrigation,
poorly constructed greens and bunkers,
overgrown trees, and insufficient tees
and tee space.
The membership at this 36-hole private
club was cautious about change because
of a contentious renovation of their other
course. That project was deemed not to
have delivered on certain key promises.
A key challenge was convincing
residents—who are all members of The
Oaks Club, but not all golfers—that the
Heron Course needed to be rebuilt to
accomplish their goal of becoming the
best 36-hole club in the region.
The design team worked tirelessly
to communicate with two different
committees and all parties involved
in the project. Outreach activities
included club surveys, numerous town
hall meetings, over 100 individual
homeowner meetings, realtor meetings,
cocktail parties, board meetings, club
staff meetings, weekly architect and
superintendent led course tours,
individual golf association meetings and
presentations, and weekly e-mail blasts
with photos and video.
A highly skilled team was assembled to
cover all facets of the project. Research,
analysis and planning were extremely
thorough and detailed. The team-
oriented approach eliminated delays,
misunderstanding and change orders.
State-of-the-art infrastructure was
implemented, with drainage, bunkers and
greens that have since weathered tropical
storms and a hurricane. Playability was
greatly improved and the redesigned
Heron Course has received rave reviews.
The originally reluctant membership was
won over by the process and results of the
project, which was delivered on time and
within budget.
The Oaks Club, Heron
Vertical Analysis
Analysis
After
The Oaks Club
Location:
Osprey, Florida
Golf course architect:
Dana Fry, ASGCA
Fry/Straka Global Golf Course
Design, LLC (on behalf of
Hurdzan/Fry Environmental Golf
Course Design, Inc.)
www.frystraka.com
Project summary:
The Heron
Course at The Oaks Club
suffered from an antiquated
design and failing infrastructure.
A highly-coordinated design team
won the trust of the membership
through extensive communication
and delivered a renovation that
exceeded design, timeframe and
budget expectations.
Partners:
Southeastern Golf, Inc.
(construction); Toro (irrigation);
West Coast Turf (turf); Better Billy
Bunker (bunkers); Advanced
Drainage Systems, Inc. (pipe);
AM Engineering (engineering);
Pikes Creek Turf (turf); Quality
Grassing (turf); Altum Irrigation
Design (irrigation design);
O'Donnell Landscapes Inc
(landscaping); Golf Agronomics
Supply & Handling (sand)
Photos: Dave Sansom