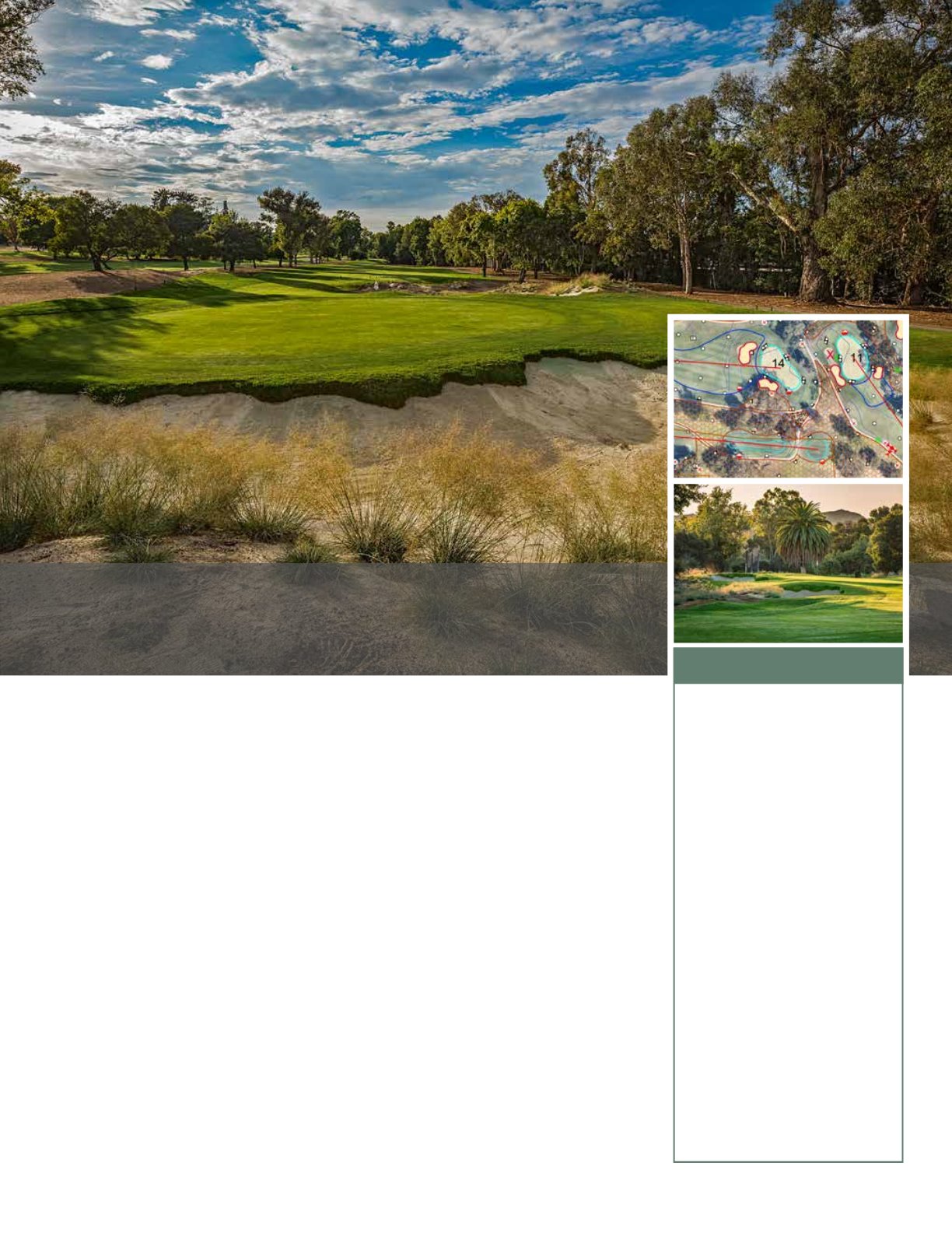 11
Better golf with less water
The redesign of Los Robles Greens in Thousand Oaks, California, has led
to a dramatic reduction in its use of water, fertilizer, pesticide and fuel
Photos: Dave Sansom
I
n the midst of a historic drought
and facing government regulations
on water use, Thousand Oaks was
determined to implement a city-wide
conservation effort, to include their
municipal golf course, Los Robles Greens.
The existing golf course design was costly
to maintain, and bans were already in
place on selected pesticides and native tree
removal. The city was determined to create
a socially-accepted golf course that was
mutually profitable and environmentally
beneficial. Jason Straka, ASGCA, was
tasked with creating a playable, fun,
profitable and visually stunning golf course
that used the least amount of water and
other inputs necessary.
The design team took inspiration from
the renovation of the Pinehurst No. 2
golf course in Pinehurst, North Carolina.
Although in a different ecosystem, the
changes to the course were still very
applicable. To study the intricacies of
the renovation and management, Straka
visited the course with Pinehurst's
director of grounds and golf course
maintenance Bob Farren and the No. 2
course's superintendent John Jeffreys.
Straka's subsequent redesign of Los
Robles Greens removed 30 acres of
turf and naturalized 40 acres with
approximately 55,000+ native and
adapted drought and pest resistant plants.
These naturalized areas have been covered
with mulch made on site by recycling 15
years of accumulated green waste.
The long-term goal is to allow leaf litter
from live oak trees to accumulate and
build up in the natural areas, much the
same as pine straw gathers in the natural
areas of Pinehurst No. 2. Not only did
Los Robles Greens previously irrigate turf
in these areas, but they spent countless
labor hours mowing them, picking up
leaf litter, and applying fertilizers and
pesticides. The future now holds a
drastic reduction in the amount of water,
fertilizer, pesticide and fossil fuel used
at the facility as a whole, exceeding the
city's original goals.
Location:
Thousand Oaks,
California
Golf course architect:
Jason Straka, ASGCA
Fry/Straka Global Golf Course
Design, LLC
www.frystraka.com
Project summary:
Los Robles
Greens was economically
challenged due to rising water
and maintenance costs, and faced
regulatory pressure to reduce
water use. A redesign created a
model for sustainable golf.
Partners:
City of Thousand
Oaks; Arcis Golf (club
management); Broderson
Associates (landscaping); Bryant
Taylor Gordon Golf (irrigation
design); American Landscape
(construction); Rain Bird
(irrigation); Advanced Drainage
Systems (pipe); West Coast Turf
(turf); Robert Abe Nursery (plants);
PW Gillibrand (aggregate)
Los Robles Greens