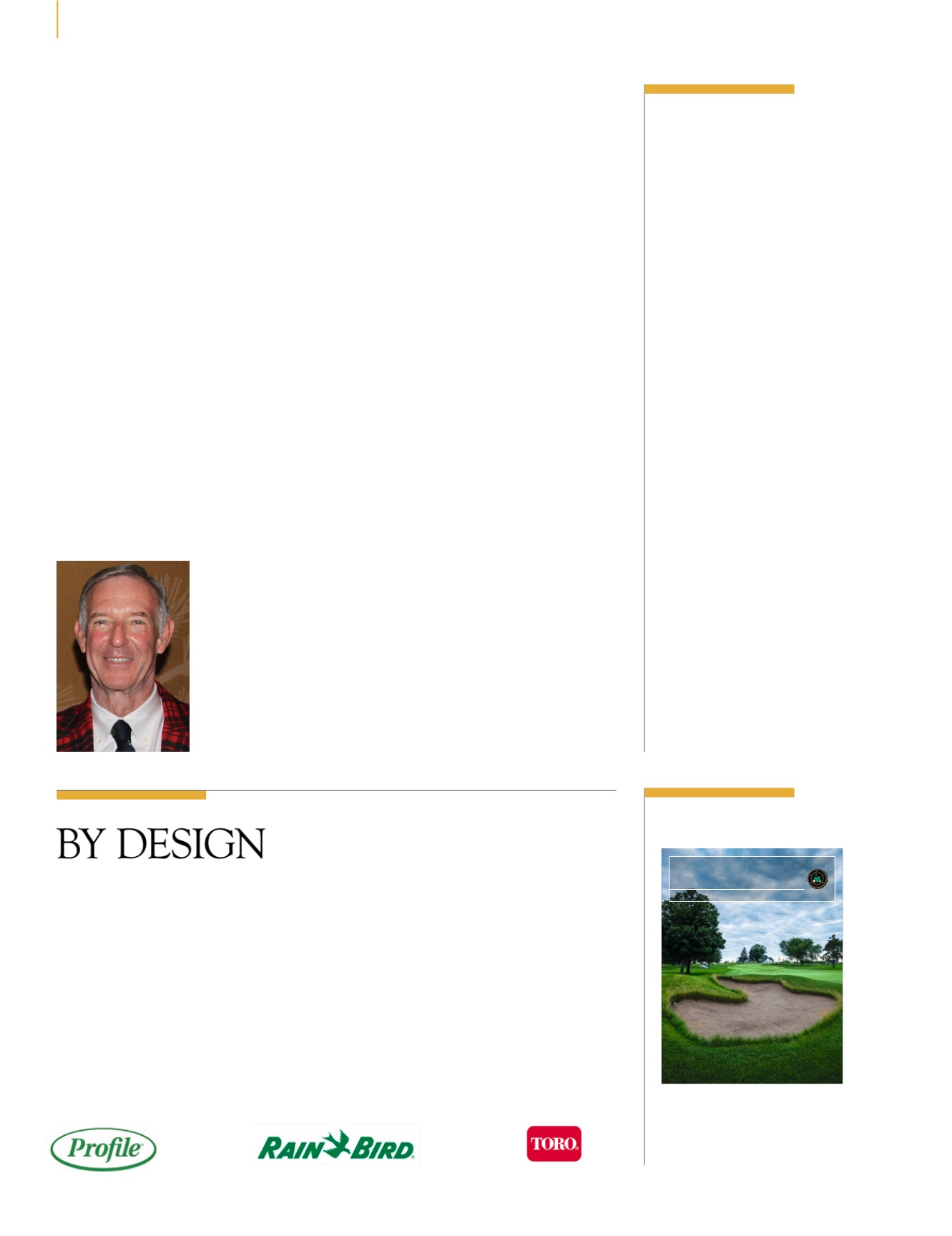 FOREWORD
03
T
he Golf Industry Show always provides a wonderful opportunity to
exchange ideas, experiences and views with industry professionals
from all disciplines and all parts of the globe. This year's event—which
took place in San Diego in February—was no exception.
ASGCA has a long history of fostering innovation, as was clear to see from
the insight shared by members during the week. There were fascinating
and detailed presentations about innovations in putting green surfaces,
tournament set-up and water management. You can read more on page 5.
And what better place is there for ASGCA members to apply their spirit of
innovation than municipal golf courses? Good publicly-accessible facilities
are absolutely crucial for the success of the game, and I applaud the
municipalities throughout the United States and beyond who work hard to
provide their communities with an affordable way to enjoy fresh air, green
space and the game of golf.
The cover story of this edition of
By Design
, which begins on page 8,
examines the design of municipal golf courses, and considers the experiences
and opinions of ASGCA members who have worked on municipal projects. In
my opinion, some of our best work is being done at these facilities, creating
fun experiences for all.
I hope you enjoy this issue.
Steve Smyers
President
American Society of Golf Course Architects
CONTENTS
COVER
Digest
5
A round up of industry news,
including innovation discussion at the
Golf Industry Show, a test event at
the Rio Olympic Course, and a new
course in Virginia.
Municipal gol
f
8
We consider the keys to providing
great golf to local communities,
as ASGCA members share their
experiences of municipal design projects.
Golf and wate
r
14
A new publication from the ASGCA
Foundation helps developers
understand good water stewardship.
Scoring tee
s
16
By Design
speaks with Jan Bel Jan,
ASGCA, to find out more about her
'scoring tees' concept.
Small projects
20
Why hire a golf course architect for
small projects? ASGCA members share
their views.
Five to finis
h
22
For this issue's final five questions, we
talk with J. Drew Rogers, ASGCA.
municipal
golf
Also:Design innovation •Watermanagement • Scoring tees • Small projects
Excellence inGolfDesign from theAmerican Society ofGolfCourseArchitects
BY DESIGN
Issue 27 | Spring 2016
Great
The municipal Keller Golf Course in
Maplewood, Minnesota, was recently
renovated by Richard Mandell, ASGCA.
Photograph by David A. Parker
Fostering innovation
Editor and Publisher:
Toby Ingleton
Design:
Bruce Graham
ASGCA Staff:
Chad Ritterbusch; Therese Suslick; Mike Shefky; Aileen Smith; Marc Whitney
Photography:
Joann Dost; Alex Ferro/Rio 2016; Jessica Larson; Kevin Norby; David A. Parker;
Ed Stevenson, Forest Preserve District of DuPage County [FPDDC]
Subscribe to
By Design
at
www.tudor-rose.co.uk/bydesign
© 2016 American Society of Golf Course Architects. All rights reserved.
www.asgca.org
By Design
is sponsored by: